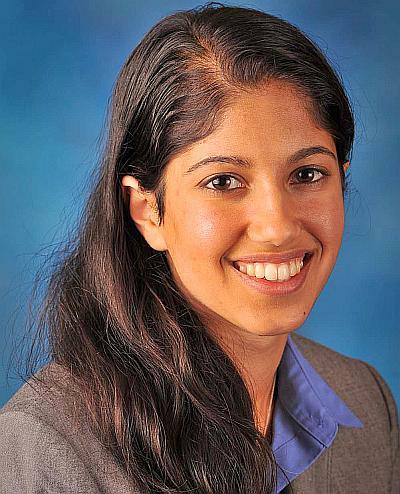 Amrita Sehgal, 18, from Ohio is one of the two $50,000 first prize winners in the 2009 Young Epidemiology Scholars Competition for American high school students for her research on osteoporosis.

The prestigious competition, sponsored by the Robert Wood Johnson Foundation and administered by the College Board, is designed to spur American students' interest in public health, specifically epidemiology, which explores patterns of disease, illness and injury within populations.
Calcium crusader
"I started my research project because both my grandmothers have osteoporosis," Amrita Sehgal, a senior at Saint Charles Preparatory School, Columbus, Ohio, told rediff India Abroad. "One of them has lost 4 inches of height because of it, and the other always complains of back, neck and knee pains."

She wanted to know about osteoporosis prevention measures.

"I found," she said, "that adolescence is the key time to build your peak bone mass, the time to make your bones the strongest they can get. It is crucial for teenagers to take enough calcium while they are young, or they might have to suffer the consequences of osteoporosis later in life."

Her study -- for which she sampled teenagers at her high school -- concluded that, on average, teenagers are not taking enough calcium. Girls, especially, are falling back. "This is interesting, since osteoporosis is four times more likely to develop in women," she said.

Could it be that osteoporosis is a 'women's disease' because teenaged girls take significantly less calcium than boys?

"This is a critical question in my study," Amrita said. "I would (ask) teens to take three glasses of milk a day, lots of yogurt, or calcium supplements."  

Amrita, who also tops in academics, is a bhangra dancer, AP scholar, golfer and badminton player, said she was 'shocked' on learning about the YES prize, 'thinking how could I have won with such a simple project, when genius kids around me did complicated, intense projects? But then I realised that calcium intake during adolescence is a more important issue than any of us think."

Injury adviser
Allan Joseph, 17, was one of the two $35,000 second prize winners for his study on ligament injuries in high school students.

Joseph, a senior at Saint Charles Preparatory School, Columbus, Ohio, conducted the largest ever national study of high school athletic anterior cruciate ligament injuries, the organisers said.

He found that athletes were eight times more likely to be injured during competition than during practice. The highest risk sport for ACL injury was football for boys and soccer or basketball for girls. He also found that in sports played by both genders, girls were eight times more likely than boys to suffer an ACL injury.



To prevent such injuries, he has recommended that coaches and trainers be made aware of the most high risk activities, enforce better officiating, and add exercises that strengthen the muscles around the knee.

Wealthier, healthier?
For her research on the co-relation between one's place of living and health, Visakha Suresh, 15, took home $15,000 in scholarship as one of the 12 national finalists.

Suresh, a junior at Plano West Senior High School in Plano, Texas, contrasted a low-income and an affluent neighbourhood near Plano. She found that the wealthier neighbourhood had three times more places to get healthy foods, the same grocery chains stocked healthier food options there, and there were three times more areas for physical activity. Her findings confirm other studies connecting health and neighbourhood economic status.

In the YES Competition, the 60 high school students selected as regional finalists from more than 560 entrants nationwide included Shreesh Naik of Cherry Creek High School, Greenwood Village, Colorado; Sagar Mehta of Winter Park High School, Winter Park, Florida; Rishi Charate of Plainfield North High School, Plainfield, Illinois; Rima Patel of John F Kennedy Memorial High School, Iselin, New Jersey; and Sabeena Trilokekar of Ossining High School, Ossining, New York.

Image: Amrita Sehgal