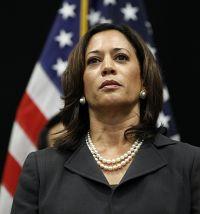 Indian-American California Attorney General Kamala Harris has won a major endorsement for her Senate bid from top Democratic Senator Elizabeth Warren.
A day after Harris declared her candidacy for the 2016 Senate race, Warren, a potential 2016 presidential candidate, in an email to her supporters praised the Indian-American attorney and urged them to donate generously for her campaign.
"California Attorney General Kamala Harris is a smart, tough, and experienced prosecutor who has consistently stood up to Wall Street... She (has) announced her candidacy for the US Senate and I'm happy to support her campaign," Warren said.
Last week, current Senator Barbara Boxer, 74, had announced that she would not run for re-election in the 2016.
Harris, 50, on Tuesday announced to launch her campaign.
"I'm sharing with you that I'm launching my campaign to represent the people of California in the United States Senate. I want to be a voice for Californians," Harris said.
"I worked with Kamala, and I saw up close and personal that she is tough, she is principled, and she fights hard," Warren said.
"We need more leaders in Washington who are willing to fight for a level playing field for working families. Kamala came to Massachusetts to help our campaign in 2012, and I'm doing what I can to make sure Kamala Harris makes it to the United States Senate in 2016," she said.
If elected, Harris would be the first ever Indian-American elected to the US Senate.
Born of an Indian mother -- Shyamala Gopalan -- who emigrated from Chennai in the 60s, and Jamaican-American father, Stanford University economics professor Donald Harris, she is the first ever Asian-American and African-American to be elected to this top position in California.
So far, only three Indian-Americans have been elected to the US House of Representatives: Dalip Singh Saund, Bobby Jindal and Ami Bera, who was re-elected for his second term last November.
Last week Harris was sworn-in for her second term as the California Attorney General. She is a close confidant of the US President Barack Obama.