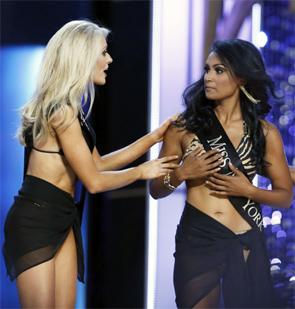 Racist remarks have flooded Twitter after a contestant of Indian descent was crowned Miss America 2014.
Users commented on 24-year-old Nina Davuluri's heritage and race.
One of the users on the micro-blogging site said that one has to be 'American' to be crowned the coveted title, CNN reported.
Fox News and Commentary host, Todd Starnes, posted that the liberal Miss America judges won't admit that Miss Kansas lost for "actually representing American values."
Another user commented on Davuluri's Indian heritage -- saying Obama would be happy as the newly crowned Miss America was a Muslim.
Davuluri, who is the first ever Indian descent winner, wooed her judges with a Bollywood fusion dance number in the talent round, to have the coveted tiara placed on her head.
Image: Nina Davuluri during the Miss America paegant ' Photograph: Lucas Jackson/Reuters