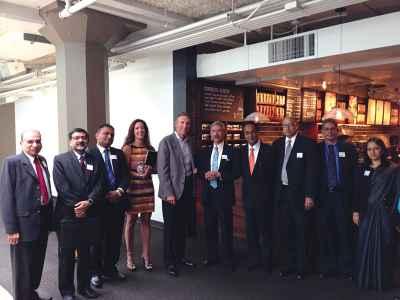 Indian Ambassador to United States S Jaishankar listened to the concerns raised by Indian Americans during his first visit West Coast. He also visited leading corporations like Boeing, Microsoft, Amazon, and Starbucks during his trip. Ritu Jha reports.
Dual citizenship, postal ballots and delay in visa processing were some of the issues raised by the Indian-American community to Indian Ambassador to the United States Dr S Jaishankar on his first visit to Seattle, Washington, on May 5 and 6.
Ambassador Jaishankar also visited the San Francisco Bay Area, though there was no community outreach program.
"This official visit was done to promote Indo-US relations and to explore various avenues to impart positive momentum into the relationship," Dr K J Srinivasa, consul, consular and commerce, Indian embassy, told India Abroad.
The Seattle event was hosted by the nonprofit Indo-American Friendship Forum.
"The IAFF is the only organisation in western Washington that focuses solely on political activities of the Indo-American community and trade relations between India and the US," Dr Sudhakar Shetty, chair, IAFF, told India Abroad.
Ambassador Jaishankar announced about Cox & Kings Global Services taking over as the new visa service provider in the US, Shetty said.
"This is a very factual man and he knew what he was talking about," Shetty said about Ambassador Jaishankar. "He is a good, hands-on person."
The ambassador said dual citizenship is a complicated issue and there are no such plans right now, Shetty said.
Ambassador Jaishankar also gave a brief update on India's elections and said that it is significant to note that the debates in this election have all focused on growth, governance and delivery.
The positive contributions being made by Indian Americans in all walks of life have fostered a better understanding of India and enhanced US-India ties, the ambassador noted.
He also visited leading corporations like Boeing, Microsoft, Amazon, and Starbucks.
The IAFF hosted two dinners for Ambassador Jaishankar: The May 5 one was cosponsored with the Washington Council on International Trade and Trade Development Alliance at Westin, Bellevue. The one on May 6 was for the Indian-American community.
Shetty said Ambassador Jaishankar told Starbucks Chief Executive Officer Howard-Schultz about possibilities in India, where the coffee chain made an entry -- in alliance with the Tata Group -- in October 2012.
The ambassador was pleased to learn that India ranked high on these companies' business plans and that they were positive on India's growth prospects, Shetty said.
"I am pleased to note that the large number of Americans of Indian origin are making significant contributions in key positions in these and other companies,' the ambassador apparently said.
Dr Jaishankar also met with Washington Governor Jay Inslee and visited Mahatma Gandhi's statue in Bellevue.
In the San Francisco Bay Area, though Ambassador Jaishankar did not host any meeting with the community, he visited India Community Center in Milpitas on May 9, and attended a private meeting hosted by its board members.
He is also learned to have visited the offices of Google, Gilead, Adobe, and Sandisk.
Image: Ambassador S Jaishankar, fifth from right, and San Francisco?Consul?General S Parthasarathy, fourth from right, at the Starbucks office.