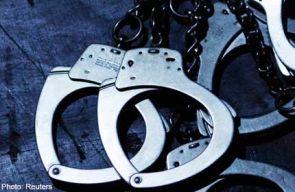 In the aftermath of the death of Sarabjit Singh, India is seriously concerned about the safety of other 270 odd nationals lodged in Pakistani prisons and wants that country to ensure adequate safety for them as per international norms.
Sarabjit's case was the second in recent months after another prisoner Chamel Singh met the same fate and India hopes "it is the last case".
However, India is at the moment not inclined to raise the issue at any international fora and wants to deal with it bilaterally.
"It is a norm worldwide that security of prisoners is the responsibility of the state authorities," External Affairs Ministry spokesman Syed Akbaruddin told reporters in the wake of death of Sarabjit who had suffered serious injuries in an assault in Kot Lakhpat jail in Lahore last week.
According to the figures of January this year, there are 215 fishermen and 55 other Indians in Pakistani jails.
"We have raised the issue of safety and security of Indian prisoners," he said.
Prior to Sarabjit, another Indian citizen Chamel Singh died in mysterious circumstances in Lahore's Kot Lakhpat jail after allegedly being tortured.
Akbaruddin said India has been reiterating to Pakistan the need for dealing with Indian prisoners in a sympathetic and humane manner as it was convinced that he was not guilty of terrorism for which he was charged and convicted.
"If we were not convinced, we would not do it," he said while replying to questions.
India feels its prisoners in Pakistan are getting "inhumane treatment" as this was the second case after Chamel Singh, which is a "matter of grave concern".
Replying to a volley of questions on events surrounding Sarabjit, the MEA spokesman said Indian government did everything possible and if the matter needs to be taken up at the political level with Pakistan that would also be considered.
He said that after Sarabjit's death, Foreign Secretary Ranjan Mathai talked twice to his Pakistani counterpart on Thursday.
Besides, the Indian High Commissioner in Islamabad talked to the chief minister of Pakistan Punjab while the deputy high commissioner was in touch with Pakistan foreign ministry officials.
To a question, Akbarudin vehemently denied India had been consulted before the life support system of Sarabjit was removed. He maintained that India was trying hard to ensure that he lived.
Sarabjit's autopsy report will be handed over to his family when received, he said.
Asked whether India shared Pakistan's view that Sarabjit was guilty, the spokesman said if it agreed with that, India would not have raised the matter with Pakistan at the prime minister level, foreign minister level, foreign secretary level and high commissioner level.
"If we considered him guilty, we would not have pursued his case ever," he said.
Akbarudin said a joint Judicial Committee was on a visit to Pakistan to ascertain the condition of Indian prisoners but it reached Lahore jail late as Sarabjit was in hospital by then.
Queried whether India would take the matter to international level, he replied "India and Pakistan have bilateral mechanisms. We know each other well and we will follow the same pattern."
Pakistani prisoners lodged in Indian jails were safe, Minister of State for External Affairs Preneet Kaur has said.
Answering reporters' questions here this evening on ensuring the safety of Indian and Pakistan prisoners in each other's territories, Kaur said "Pakistani prisoners are safe in Indian jails. We are a responsible government."
She said the Indian plane carrying the body of Sarabjit had taken off from LahoreInternationalAirport and the aircraft would soon land in Amritsar.
Kaur said the body would then be taken to Sarabjit's native village Bikhiwind near.
Asked about the delay in the Air India plane having taken off from Lahore, she said it was due to certain customs formalities. "All formalities have now been completed and the plane has taken off," she added.
Kaur said she would be representing the government of India "on this sad moment." Besides her, Punjab Congress Chief Partap Singh Bajwa and other party leaders would attend the cremation at Bikhwind on Friday.
Bajwa told reporters that Sarabjit's death "is a setback for relations between India and Pakistan".