Political leaders and other prominent personalities condemned the attack on Amarnath Yatris in Jammu and Kashmir's Anantnag district on Monday after terrorists open fired at the bus carrying the pilgrims killing seven and injuring 32 others.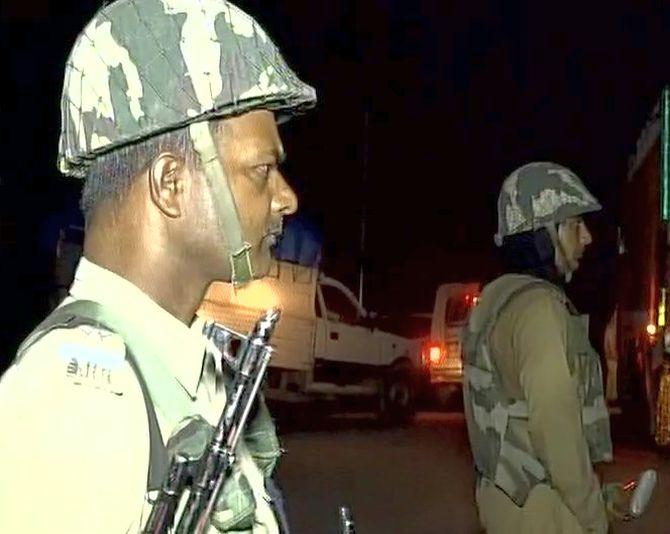 Pained beyond words on the dastardly attack on peaceful Amarnath Yatris in J&K. The attack deserves strongest condemnation from everyone. My thoughts are with all those who lost their loved ones in the attack in J&K. My prayers with the injured. India will never get bogged down by such cowardly attacks and the evil designs of hate. I have spoken to the Governor and Chief Minister of J&K and assured all possible assistance required.
-- Narendra Modi, Prime Minister
Terrorist attack on Amarnath Yatra is the most reprehensible act. This should add to our determination to eliminate terrorism. This incident should add to our determination to eliminate terrorism.
-- Arun Jaitley, Defence Minister
The attack on the devotees of Lord Shiva is a crime against humanity. The entire nation is in shock.
-- Sonia Gandhi, Congress President
India will never be intimidated by these terrorist cowards. This is a grave and unacceptable security lapse. The PM needs to accept responsibility and never allow it to happen again.
-- Rahul Gandhi, Congress Vice- President
It is an assault on our values and traditions.
-- Mehbooba Mufti, Jammu and Kashmir Chief Minister
I have no words to express my deep pain on the killing of innocent pilgrims traveling to the holy shrine of Amarnath. It is a henious act. I pray for the families of those who have lost their lives and wish speedy recovery to the injured. Cowards responsible for this barbaric act will not be spared. I have spoken to the BJP District President and MLC from Anantnag and asked our karyakartas in Kashmir to help the pilgrims in need.
-- Amit Shah, Bharatiya Janata Party President
These terrorists are the enemies of Kashmir and Kashmiriyat. No two ways about that. Every right thinking Kashmiri must today condemn the killing of the Amarnath yatris and say, unequivocally -- this is #NotInMyName
-- Omar Abdullah, Former Jammu and Kashmir Chief Minister
The situation in Kashmir has deteriorated under the BJP govt's watch. Their mishandling of the situation is a matter of grave concern. Last killing of pilgrims in terror attack was in 2000, under BJP-led NDA. Now, again in 2017. How did the situation in Kashmir come to this? We demand accountability from the BJP govt which has mishandled the state, and has now led to the loss of innocent lives in Kashmir.
-- Sitaram Yechury, Communist Party of India-Marxist General Secretary