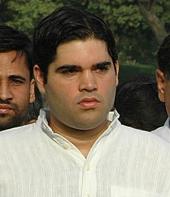 In his 35-minute-speech at the Hotel Intercontinental in Houston, Texas, Bharatiya Janata Party Member of Parliament Varun Gandhi did not utter a word about politics. He did not even mention his party or the ruling Congress.
Yet, his speech included sincere criticisms of the system, not sparing even his grandmother Indira Gandhi and great-grandfather Jawaharlal Nehru.
India had a great opportunity 60 years ago, said Varun, adding "Yet, we chose the wrong path, though with good intentions. We chose outdated ideologies then. The world was following capitalism, but we chose outdated ideas like socialism. It weakened our democracy and only created factions".
Gandhi, 29, was addressing a fundraising event organised by the Indo-American Charity Foundation for its various projects. Over 500 people attended the event that collected more than $100,000.
The firebrand leader was speaking on 'India's Place in the New Global Order: Charity and Social Services in the Emerging Economy'.
During the speech, when an audience member complained that he could not hear the BJP leader, Gandhi shot back, "This is the first time somebody is accusing me of being soft spoken."
The Gandhi scion had been arrested and charged with the National Security Act for his alleged anti-Muslim speeches during the campaign for the Lok Sabha polls this year.
 "You left the country in search of a dream. I want India to be that dream. India will be the world's next super power and the next century is India's century," he said.
But Gandhi admitted that in spite of the high level of economic growth, many Indians don't have enough to eat.
Gandhi added, "India is not a poor country, but a poorly managed country," drawing a hearty applause from the audience.
The BJP leader recalled how he had seen people streaming to his residence, seeking help to get a gas connection or admission in a school. When he had asked his mother (BJP MP Maneka Gandhi) about this, she had told him that the system has failed to provide the requisite help to the people.
He pointed out that even the constitutional guarantees are not reaching the people, stating, "That is not right. It is not democracy. Every Indian should be assured of dignity and justice and the opportunity to earn for his family".
"Today, 60 per cent or 630 million people in India are under the age of 30. That is double the population of the United States. It is the creative work force. How do we utilise it," he said
Gandhi clarified that he was scrutinising, not criticising the system, because he loved India. "Poverty is still a problem. Forty years ago, we spoke of 'Garibi Hatao' (Remove poverty). But we are still in the same situation. The super rich get richer. A tiny percentage of the population owns 37 per cent of India's riches. Four Indians own 16 percent of the GDP. The poor get poorer," he rued.
He narrated the story of an Indian farmer, who had taken a loan for his daughter's marriage. But when his crops failed, he was forced to sell his land to repay the debt and ultimately committed suicide.
"Poverty is not inevitable. It is a system and it is only a symptom. There is a lack of big ideas to cope with the problems of 1.2 billion people," said Gandhi.
He also criticised the education system in India, saying, "Officially, 70 lakh children are outside the school system. The education imparted in government schools is outdated. Only two per cent of students get trained for some kind of work, while that figure is as high as 96 per cent in Korea and 80 per cent in Japan. No schools or colleges teach anything about environmental issues".
Gandhi added that creating an infrastructure to provide healthcare to the poor was necessary. He added that the entire system needed to be changed as, "Why should a few mange the system all the time?"
He urged the Non-Resident Indians to help India, especially in the fields of education and healthcare.