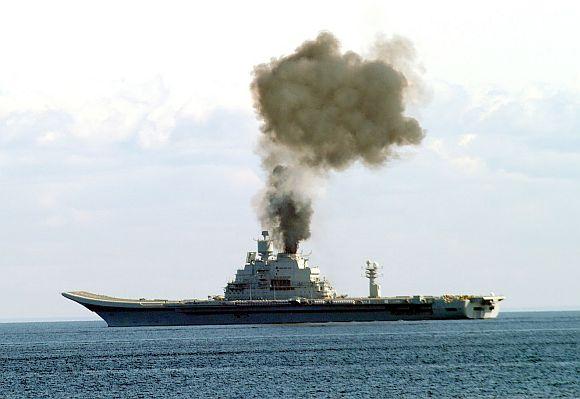 India is unlikely to slap a fine on Russia for the delay in the delivery of aircraft carrier Admiral Gorshkov caused by engine problems, an official with Russia's state-run arms exporter has said.
Admiral Gorshkov -- rechristened as INS Vikramaditya -- was supposed to have been handed over to India in December last year, but sea trials in September revealed that the ship's boilers were not fully functional.
India and Russia had inked the original $947-million deal for 45,000-tonne Gorshkov - the Kiev-class ship -- in 2004. The ship was originally scheduled to have reached Indian shores in 2008, but its delivery has been delayed since then, pushing up the cost of refurbishing the ship to $2.3 billion.
"In theory, India has the right to do so (to impose a fine). But we believe that we will find a mutually beneficial solution to this problem in a friendly atmosphere. Actually, we already have, but for now, we're saying that we will," Viktor Komardin, the Deputy general director of Russia's state arms exporter Rosoboronexport, was quoted as saying by RIA Novosti news agency.
The Defense News website reported earlier in the year that India had showed signs of impatience over the Vikramaditya's tortuous refit and demanded compensation from the Russians at a meeting in October 2012 for the latest delay in delivery.
The Russians rejected that claim, saying the parts that failed had been bought by the Indian Navy, the news agency said. The Vikramaditya was originally built as the Soviet
Project 1143.4 class aircraft carrier Admiral Gorshkov. The Project 1143.4 carriers and a class of destroyers with the same engines suffered a history of boiler failures during their service lives.