In the endlessly entertaining and absorbing soap opera that is India-Sri Lanka relations, wait for the next episode, Aditi Phadnis reports.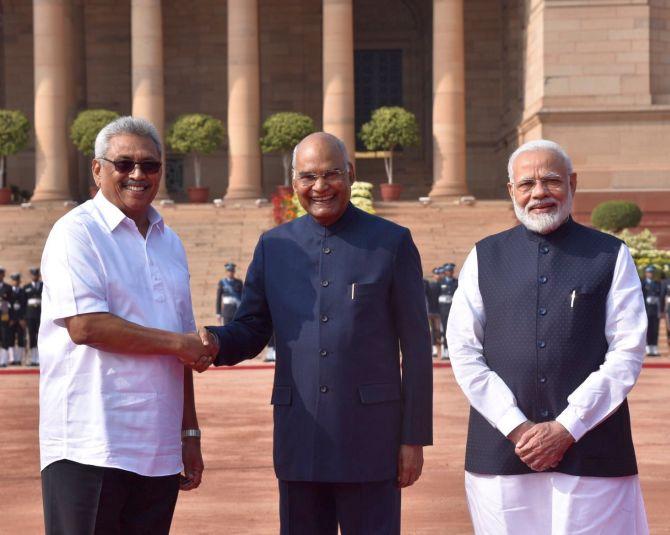 As Gotabaya Rajapaksa, President of Sri Lanka, visits New Delhi on Friday, November 29, he is representing 50 per cent of the government.
The other half of Sri Lanka's dynamic duo, Prime Minister Mahinda Rajapaksa, is in Colombo, on the phone to Beijing.
During the years the Rajapaksa brothers were in power in Sri Lanka (2005 to 2015), Mahinda was president and Gotabaya was defence secretary.
It was also around the time the geo-strategic eclipse of India in the region began.
At that time, the biggest challenge for Sri Lanka was controlling the Tamil insurgency in the north and east.
To be fair to the Rajapaksas, they first tried to obtain military hardware to deal with the Liberation Tigers of Tamil Eelam from India.
But due to political compulsions of Tamil Nadu, New Delhi sat over Colombo's list.
This forced Rajapaksas to look towards China and Pakistan, which readily obliged.
After failed ceasefires and peace processes, the Rajapaksas decided to opt for the military solution whereas in the past Colombo had confronted the LTTE only to contain it.
Sri Lankans have long memories where dealings with India are concerned.
In 2000, Sri Lankan Army was trapped by LTTE in Jaffna following its rout at the battle of Elephant Pass.
Then foreign minister Lakshman Kadirgamar had sought Indian military commitment (similar to assistance provided against ultranationalist Janata Vimukthi Peramuna or JVP in 1971 and LTTE in 1987) to rescue its forces if needed.
India did not oblige with IPKF 2.0 or military equipment.
It gave a grant of $200 million.
Sri Lanka's stunning defeat of the Tigers in a campaign led by Gotabaya and supported by Mahinda surprised everyone, puncturing the halo of LTTE invincibility.
India's disguised support for the war was attributed by the Rajapaksas to their successful 'management' of India.
Buoyed by their military victory without much help from India, Colombo boldly invited China to launch a developmental blitzkrieg centred on Hambantota, Mahinda's electoral constituency that turned Sri Lanka into a veritable death/debt trap.
The Rajapaksas-led government in Colombo was signalling to the people of Sri Lanka proudly that it had stared India down.
During Mahinda's presidency, Beijing's projects ranged from the Hambantota Port and Industrial Zone, Colombo Port /Financial City through sea reclamation, Shangrila Hotels and apartments, a jetty in Colombo port, expressways from the Bandaranaike International airport to Colombo and Colombo to Galle, a new military headquarters, supply of military hardware and training and much, much more.
India was missing.
The strategic balance was partially restored with the defeat of the Rajapaksas in the polls in 2015 in which India reportedly tipped the balance.
The duo said publicly they believed so.
By then China was deeply entrenched courtesy Rajapaksa profligacy which landed Sri Lanka in a $9 billion debt.
Then came the unlikely and, in hindsight, unworkable alliance between two groups, one left wing and one right wing, that installed Maithripala Sirisena and Ranil Wickremesinghe as president and PM.
The Rajapaksas sketched redux within months: they swept the provincial council elections.
Mired in charges of corruption and plain incompetence, the government muddled forward with the president and PM fighting each other at every step -- and strengthening the Rajapaksas at every step.
Mahinda and Gotabaya figured their winning ticket was recasting the notion of nationhood in Sri Lanka.
Their support to the Bodu Bala Sena and the Sinhala Buddhist constituency especially in South Sri Lanka has had a devastating impact on an island already deeply divided.
Interestingly, the first two appointments made by Gotabaya after he won the presidential elections earlier in the month are appointing a defence secretary of his choice -- and appointing his brother Mahinda as prime minister.
The dream team could be a nightmare for many, especially its sequel.
A Sri Lankan political analyst on a visit to Delhi in 2014 had plotted a graphic of the Rajapaksa clan and who was doing what.
In addition to the top job and the defence secretaryship, the clan had a commerce minister in place (Basil, younger brother), a speaker (Chamal, nephew) and an MP and a pole of power (Namal, Mahinda's son).
There were a couple of cousins, once or twice removed, also somewhere in government.
You could argue that is in the past.
China is no longer as interested in Sri Lanka and has its own problems to worry about.
New Delhi, wiser after the fact, is trying to kiss and make up with the Rajapaksas.
Inviting Gotabaya to Delhi and turning on the charm offensive is part of that plan.
Ultimately, of course, it is all up to the people of Sri Lanka: Whether it is the clan they will vote to power.
In the endlessly entertaining and absorbing soap opera that is India-Sri Lanka relations, wait for the next episode.