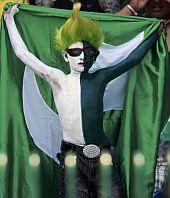 India will issue 3,000 visas to Pakistani fans and an additional 300 visas to VIPs of that country to witness the upcoming Indo-Pak limited over cricket series beginning December 25, Lok Sabha was informed on Tuesday.

For the first time, India has also agreed to issue multiple city visa to the cricket lovers of the neighbouring country provided they show tickets for the matches, travelling tickets and hotel reservation slips.
Minister of State for Home Mullappally Ramachandran said of the 3,000 visas, 1,000 will be issued for the match to be played in New Delhi while 500 each visas will be given to those who want to cherish matches in Bangalore, Ahmedabad, Chennai and Kolkata.
Of the 300 VIP visas, 100 will be issued for the match to be played in New Delhi while 50 each VIP visas will be given for the four other matches.
All tickets will be sent to Pakistan Cricket Board for distribution.
The Minister said it has been decided that in respect of all those Pakistani nationals who would be visiting India for watching the matches with the sponsorship from an Indian national, the existing visa procedure will apply.

"However, in respect of those Pakistani spectators who would be visiting India without the sponsorship from an Indian national, visa would be granted to such spectators only on production of ticket for the matches (no limit on number of matches) hotel bookings, return ticket by air, train or bus and a photocopy of the national identity card issued by the government of Pakistan," he said.


The minister said Pakistani spectators would be allowed entry and exit only through Delhi, Mumbai and Chennai (by air), Attari (by train and Attari (by bus) and the mode of travel and the point of entry/exit would clearly indicated in the visa application form and would be endorsed on the visa sticker.
No change in the point of entry/ exit will be allowed and all such visas would be with the police reporting and arrangements will be made by the Special Branch of the Police and the BCCI would suggest to PCB the list of hotels along with tariff at each venue where the Pakistani spectators can be accommodated.
No Pakistani cricket fan will be allowed to cross the border on foot (the facility is available in Wagah).
The series would comprise three ODIs and two Twenty20 Internationals between December 25, 2012 and January 6, 2013. The ODI matches will be played in Chennai, Kolkata and New Delhi and the Twenty20 games in Bangalore and Ahmedabad.