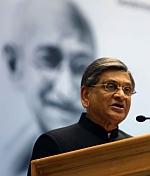 At launch of the 'India Initiative' by the Brown University External Affairs Minister S M Krishan delivered an inspiring speech. Here's the full text:  
It is a privilege for me to be here at one of America's earliest and most prestigious Universities. Brown, I understand, will soon celebrate the 250th anniversary of its founding.
I thank President Paxson and Provost Schlissel as well as Professor Ashutosh Varshney for giving me the opportunity to visit a university of such great repute. 
Nations' progress and societies prosper on the foundations laid in the institutions of learning and research. The great universities of this country have not only benefited the United States, but also drawn students and scholars from across the world, including more than a 100,000 students from India today.
Over the past decades, through the vicissitudes of relations between India and the US, our engagement in higher education, science and research was a strong bridge between our two countries.  This has contributed in immeasurable terms to the close relationship that our two countries share today.
The ongoing India-US Higher Education Dialogue is now a key pillar of the India-U.S. Strategic Dialogue. Our educational institutions, scholars and students are brought into closer partnership through this Dialogue. Our two governments place a strong emphasis in our relationship on the youth, which not only easily embraces the future, but will also have the responsibility in shaping it.
I want to congratulate Brown on launching an 'India Initiative'. I hope it will focus on India's heritage and its progress, its achievement and its challenges, its engagement with the world and, equally important, on the growing India-US strategic partnership. I do hope the India Initiative will become an important part of Brown's story in this century.
I would now like to share my thoughts on India's foreign policy priorities in the 21st century.
It is hard to predict what the century will turn out to be, but we live in a time when our inter-dependent and networked lives co-exist. As our world is globalising, our societies and communities are becoming more diverse.  We now have unprecedented possibilities to spread prosperity, but we are also bound deeply by shared vulnerabilities.
Our economies and security are being shaped increasingly outside national boundaries, in the domain of outer space, seas or cyber space. The era of globalisation and growing power shifts between and within societies call for greater cooperation among nations and new models of global engagement and governance.
India is in an exciting transition. A nation constituting one sixth of humanity is undergoing economic and social transformation on an extraordinary scale. It is taking place in a democratic and federal framework; in the midst of growing political pluralism and social diversity; and, in the context of continuing debate on equity, opportunity and sustainability.
Our policies are not only concerned about the growth of the aggregate, but also by the welfare of the individual.  It is a complex political and economic challenge.  We need to continue with a high growth trajectory and also make it more inclusive. This calls for an innovative, dynamic and sustainable engagement with the world around us. 
Today, the world is troubled not so much by the spectre of a major war, but by conflicts within and between societies, cultures, religions, peoples and nations. Promoting the values of pluralism, mutual respect and understanding is a great challenge of our times, and one that is vital for global stability and security. 
India has been guided since ancient times by the ideals of Vasudhaiva Kuttambakam -- the world is one family -- and Sarva Dharma Sambhava -- all faiths are equal. India has been challenged forces of intolerance, discrimination and violence, but time and again, when they have been tested the most, Indians have spoken as one people and one nation.
As a pluralist democracy that stands at the cultural cross-roads of Asia and many of its fault lines, India will serve as a bridge across the region's -- and, indeed, the world's --  great diversity.
India's commitment to internationalism, independence of judgment in the conduct of external relations, support to the democratisation of world order, and contributions to the maintenance of international peace and security are enduring legacies of our national movement. This enjoys strong support across the political spectrum in India.
 India's foreign policy in the 21st century will remain rooted in these core values, but it will continuously adapt to the changing external circumstances and the shifting domestic needs.
As we look ahead, I would identify few more major priorities for India's foreign policy.
The foremost priority of India's foreign policy will be to create a favourable external environment for the pursuit of collective prosperity and the individual welfare of all the Indian people. Our interests are firmly anchored in a stable global order and a peaceful neighbourhood. We need an open and equitable international trading system; a stable financial system; reliable, affordable and secure energy supplies; and, food security.
We will need bilateral as well as international partnerships of technology and innovation to meet the extraordinary scale of our development challenges. In turn, India's own progress will, in its own modest way, affirm the values of democracy and pluralism; contribute to peace and stability; and provide one of the pillars of the global economy.  
Our foreign policy will, therefore, be an instrument of our development, but also a vehicle to fulfill our global responsibilities.
Another major priority of our foreign policy will be the creation of an area of peace and prosperity in South Asia. For more than three decades the north-western parts of the Subcontinent have seen much turbulence, and conflict has affected not only India but the entire world.
India is determined to work with its neighbours in the region as well as major powers in the world to defeat the scourge of violent extremism that has taken root there. India is committed to support the efforts of the Afghan people to reconstruct their war-ravaged economy. Our commitment to Afghanistan has been reflected in the Strategic Partnership that was signed last year.
Our pursuit of normalisation of relations with Pakistan is evident from finalisation of a road map for normal trade relations, and also from liberalsing the visa regime to promote greater people-to-people contacts.
Our vision seeks political stability, economic modernisation and regional integration of the region. This will enable India to reconnect more closely with Central Asia, and also contribute to stability and prosperity in inter-linked South and Central Asian regions.
India is also asymmetrically opening its markets to other countries in South Asia, contributing to internal stability and actively resolving  outstanding bilateral issues. India has demonstrated the political will in leading South Asia in a positive direction. We are keen to transform South Asia as a peaceful and prosperous region.
A stable and secure Asia, Indian Ocean and the Pacific Region  is a key requirement of India's own security and prosperity in the 21st century, and yet another key priority of our foreign policy. 
The idea of an 'Asian Federation' deeply animated the Indian national movement. Promoting political solidarity and economic cooperation within a newly liberated Asia was one of the independent India's diplomatic initiatives. These ideas were way ahead of their time.
More than six decades later, many of these ideas have become a reality. Greater integration of Asia has generated unprecedented levels of prosperity in Asia. Asia's extraordinary accomplishments in the last few decades could be reversed if great power rivalry, national chauvinism and arms race take hold of the region.
India is determined to avoid such an outcome by contributing actively to the deeper economic integration of the region and construction of a stable and inclusive political and security order for Asia and the Pacific.
 Too often, the idea of balance and stability in Asia, Indian Ocean and the Pacific Region is seen in terms of the paradigms of the past century, but that is neither inevitable nor feasible or desirable. We will work to build a regional architecture that promotes cooperation and reinforces convergence, reduces the risks of confrontation and conflicts, and draws all countries of the region into a common framework of norms and principles of engagement.
It applies as much to the challenges of maritime security, which is so crucial to stability and peace across the region. We will work with others to foster an environment of shared acceptance of the principles of freedom of navigation, unimpeded lawful commerce, peaceful resolution of maritime disputes, and access to resources, in accordance with international law. A durable order in the region requires not only the participation of, but also enduring commitment, from all countries.
 Our engagement in the Asia Pacific region is characterised by strong bilateral ties extending from Myanmar to Australia; deepening linkages with regional organisations, especially ASEAN; a web of comprehensive economic partnership agreements and ambitious plans of connectivity.
While our Look East Policy began with a strong economic emphasis and content, it has expanded to encompass strategic and security engagement in the region.  Two decades of engagement with ASEAN will be celebrated through the India-ASEAN Commemorative Summit in December this year. We will use this occasion to chart a road map for intensifying our engagement with ASEAN.
We will continue to invest in building a stable and cooperative relationship with China that is mutually beneficial, and also a source of regional stability and prosperity.  
Today, West Asia is home to six million Indians and a key source of energy and export earnings. Apart from a major source of energy, it will always remain our near neighborhood, with strong cultural and religious ties to our country, and of great significance for our economy and our security. 
In the Indian Ocean region, we are assuming greater responsibility for security and stability, through bilateral engagement with countries in the region, but also through regional initiatives like the Indian Ocean Rim-Association for Regional Cooperation.
Our special and privileged strategic partnership with Russia has not just withstood the test of time. It has helped shape a balanced and inclusive world order, and it has contributed to the rapid growth of both the economies. It is geared for next level of engagement with greater economic content in the coming decades.
The strategic partnership between India and European Union is on a strong footing with annual Summit-level meetings. This engagement will be further strengthened with greater EU participation in India's development agenda. It will assume greater global significance in the years to come.
India's vision for a partnership with Africa is premised on making the people of Africa its primary beneficiaries. This is why the India-Africa Forum Summit process was initiated in 2008 with a view to develop   pan-African institution-building. These initiatives will assume greater salience in the coming years.
Our engagement with Latin American countries has grown into a multi-faceted one. The newly formed Community of Latin America and Caribbean States (CELAC) held their first-ever Ministerial meeting with India in Delhi last month. We look forward to enhance it to Summit level, on the lines of similar Summit level meetings with European Union and Africa.
As a country that has lived in the shadows of the arc of proliferation,  India will not only maintain its impeccable track record on non-proliferation, but will play a more active role in building international partnership to combat proliferation and pursue the goals of nuclear disarmament.
Finally, we will seek to further reform multilateral institutions such as the United Nations, including the Security Council, World Bank and IMF to reflect contemporary realities and to improve their ability to address new challenges.
 As we look at the priorities for India's foreign policy in the decades ahead, we see not only convergence of interests with the United States, but also a belief in the importance of a strong partnership between our two great democracies in achieving our shared goals. 
 It is this recognition that has led to an extraordinary political investment in the two countries in transforming India-U.S. relations and in establishing a durable and broad-based framework of a global strategic partnership.
Our political dialogue is at an unprecedented level and our strategic consultations have expanded to cover every major region and challenge in the world.  We have a strong and growing defence relationship characterised by security dialogue, regular military exercises and expanding defence trade and collaboration.  Our intelligence and counter-terrorism cooperation reflects our strong strategic partnership.  We have redefined the framework of our engagement to pursue our shared goals of non-proliferation and disarmament.
The United States is an important partner in our development efforts. Our rapidly growing ties of trade and investment constitute a strong underpinning of our relationship. Our businesses, universities and laboratories are creating exciting new partnerships of innovation, not only to pursue global competitiveness and leadership, but also address societal challenges in infrastructure, clean energy, education, agriculture, health and delivery of services.
Indeed, the enduring strength of our relationship comes from the public goodwill in our two countries and the warmth of ties between our peoples.
We come from different circumstances, history, location and levels of development, but we are united by shared values.  We deeply value the independence of our choices, but also have a fundamental stake in each other's success.  We sometimes differ in our approaches, but we seek the same future for our people and our world.  Our collaborative achievements tell us of the enormous potential that lies ahead of us, but also inspire us to pursue it.
The success of India-United States partnership will not only contribute to the prosperity in our two countries, but, in a world of great flux and diversity, it will be a model of international partnership and a factor of global and regional peace, security and stability. For India, it will remain a relationship of great priority and importance in the 21st century.