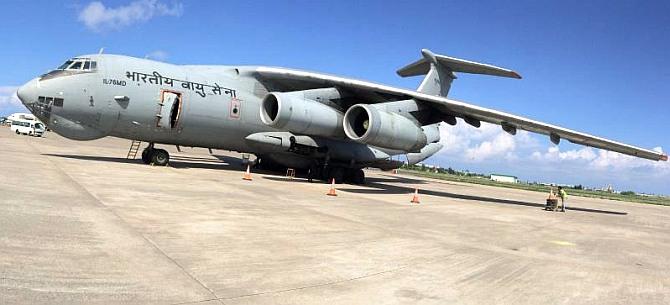 With the Maldives facing a national crisis after a fire in its capital's lone water treatment plant, India on Friday sent nearly 200 tons of water by air and dispatched a naval vessel carrying a large consignment of water and RO facility to the island nation.
The enormous effort by India was undertaken after External Affairs Minister Sushma Swaraj was called up by her Maldivian counterpart late Thursday night.
She then got in touch with Prime Minister Narendra Modi and got clearances from other authorities, Ministry of External Affairs spokesperson Syed Akbaruddin said in New Delhi.
The Indian government has pressed into service as many as five Indian Air Force transport aircraft and one naval vessel carrying a large consignment of potable water to meet the immediate requirement of the people in Maldivian capital Male.
Out of five aircraft, the first aircraft to reach Male was an IL-76 carrying 22 tonnes of potable water. A C-17 Globemaster III carrying 28 tons also reached Male on Friday afternoon.
Another C-17 Globemaster III carrying 50 tons of water will be reaching Male' in the evening.
Two more IL-76 transport aircraft of IAF are scheduled to leave New Delhi tonight, an official statement by the Indian Defence Ministry said.
The Indian Navy has dispatched INS Sukanya to Male and it is expected to arrive Male later this evening.
INS Sukanya is carrying 35 tonnes of fresh water and has two Reverse Osmosis plants on board which have a capacity of producing 20 tons of fresh water per day.
INS Sukanya, an offshore patrol vessel, was on a routine patrol off Kochi. The ship was diverted to reach Male at the earliest to render necessary assistance and all the possible help to Maldivian authorities.
Akbaruddin said another ship has also been requested and it will leave Mumbai for Male on Saturday.
"I understand that this will take quite some time, about a week to resolve. We have mounted an enormous effort in our assistance to provide a member of the SAARC and a closed partner of India in its hour of need," he said.
The city, located on a low-lying island in the Indian Ocean, has no natural water source and entirely depends on treated sea water.
A major fire broke out at the Male Water and Sewerage Company generator control panel on December 4, causing extensive damage to the cabling of the generator to the distillation plants, disconnecting water supply.
The only water available in Male is stored in tanks and sumps and is being supplied for two hours daily.
Image: First IAF IL-76 with drinking water from India lands in Male.
Photograph: Syed Akbaruddin/Twitter