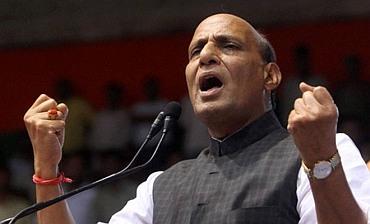 India is alert to the threat posed by terrorist group Islamic State (Daesh) following the attacks in Paris, Union Home Minister Rajnath Singh said on Tuesday.
"Islamic State is not a threat for any particular country but for the entire world. India is alert about IS," he told reporters on the sidelines of a function in New Delhi.
A series of terror attacks in Paris targeting concert-goers, soccer fans and people enjoying a Friday night out at popular nightspots killed over 150 people last week.
At least two explosions took place near the Stade de France national stadium where a France-Germany friendly soccer match was being played, attended by French President Francois Hollande.
After the attacks, Hollande declared a state of emergency and announced that he was closing the country's borders.
Indian security establishment suggests that around 20-odd Indians are currently fighting for the IS in Iraq and Syria.
They include two youths from Kalyan in the outskirts of Mumbai, an Australia-based Kashmiri, one youth from Telangana, one from Karnataka, one Oman-based Indian and another Singapore-based Indian.
Last year, a youth from Kalyan had returned home after spending about six-months with the IS. He was arrested upon arrival in Mumbai.
Among the six Indians, who fought alongside the IS and got killed were three Indian Mujahideen terrorists -- including Sultan Ajmer Shah and Bada Sajid -- who had joined its ranks after being in Pakistan, two from Maharashtra and one from Telangana.
On September 15, the United Arab Emirates deported four Indians suspected to have links with the IS.
The UAE had also sent back in September a 37-year-old woman, Afsha Jabeen alias Nicky Joseph, who was allegedly involving in recruiting youths for the IS.
In January, Salman Mohiuddin of Hyderabad was arrested at Hyderabad airport when he was preparing to board a flight to Dubai on way to Syria via Turkey.
So far, 17 young men, mostly from Telangana, have been prevented from travelling to Syria, reportedly to join IS.