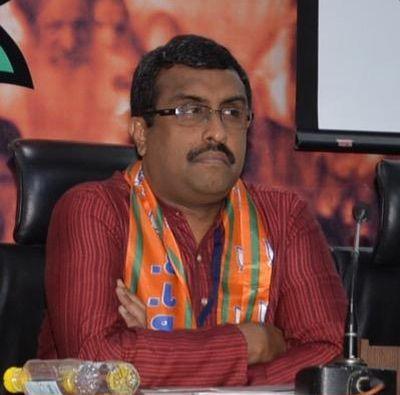 Bharatiya Janata Party general secretary Ram Madhav has said that the Rashtriya Swayamsevak Sangh believes that India, Pakistan and Bangladesh will one day reunite again not by war but through 'popular goodwill', comments that were made public on the night Prime Minister Narendra Modi made a surprise stopover in Lahore for a meeting with his Pakistani counterpart Nawaz Sharif.
"The RSS still believes that one day these parts, which have for historical reasons separated only 60 years ago, will again, through popular goodwill, come together and Akhand Bharat (Undivided India) will be created," he told Al Jazeera channel.
The BJP general secretary said, "As an RSS member, I also hold on to that view."
He, however, clarified, saying, "That does not mean we wage war on any country...we annex any country. Without war, through popular consent, it can happen."
The programme containing Madhav's comments was apparently recorded in London before the prime minister's surprise visit to Pakistan on Christmas Day, when he met Sharif and discussed ways of improving ties between the two countries. The programme was aired late on Friday night.
Madhav, an RSS pracharak himself, said, India is 'a land where a particular way of life, a particular culture or civilisation, is practised'.
"We call it Hindu -- do you have any objection? India has one culture. We are one culture, one people, one nation," he told the channel.
Madhav said the RSS ideology is for the supremacy of India and the organisation is neither 'fascist' nor 'aggressive'.
Photograph: @rammadhavbjp/Twitter