Breaking the logjam in their ties, India and Pakistan on Wednesday announced that they have decided to engage in a "comprehensive" dialogue that will include peace and security and Jammu and Kashmir.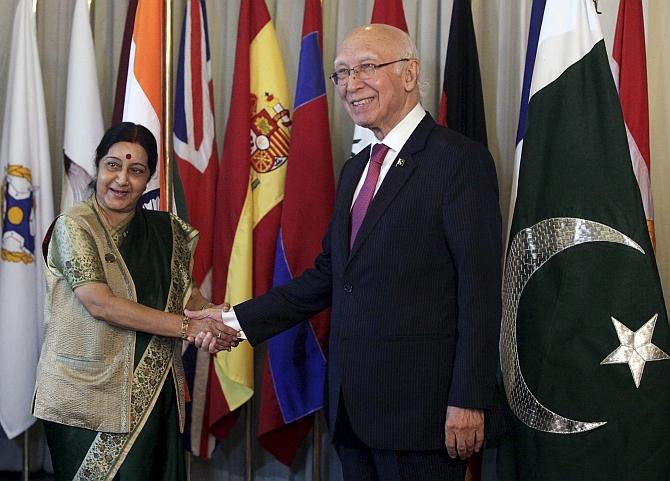 Capping a series of positive developments since Prime Minister Narendra Modi and his Pakistani counterpart Nawaz Sharif met in Paris only ten days ago, it was announced in Islamabad that the foreign secretaries will meet to decide the modalities and schedule of the dialogue.
Pakistan has assured India of "steps being taken to expedite the early conclusion" of the Mumbai attack trial, something that India has been pressing for long.
The National Security Advisors of India and Pakistan who had recently met in Bangkok, will continue to address all issues connected to terrorism, according to a joint statement issued by the two countries.
The joint statement came after External Affairs Minister Sushma Swaraj met Sharif and later his Advisor on Foreign Affairs Sartaj Aziz in Islamabad on the concluding day of her two-day visit for attending a multilateral conference on Afghanistan.
In another significant step towards betterment of ties, Modi will visit Pakistan to attend the SAARC summit likely to be held in September.
The "comprehensive bilateral dialogue" will also include confidence building measures, Siachen, Sir Creek, Wullar Baragge/Tulbul navigation project, economic and commercial cooperation, counter-terrorism, narcotics control, humanitarian issues, people-to-people exchanges and religious tourism.
The joint statement condemned terrorism and resolved to cooperate to eliminate it.
Swaraj and Aziz noted the successful talks on terrorism and security-related issues in Bangkok by the two NSAs and decided that the NSAs will continue to address all issues connected to terrorism.
At a joint press conference with Aziz, Swaraj said that she had a "very good meeting" with both Aziz and Sharif.
She said we have decided to start afresh the dialogue, which was going on under the composite dialogue earlier and then in the name of resumed dialogue, and call it comprehensive bilateral dialogue.
"The CBD will have all the pillars of composite dialogue and some additional components. How this dialogue process should be taken forward will be decided in a meeting between our foreign secretaries, who will work on scheduling and modalities of the process.
"Scheduling means which all pillars, when, what modalities and who all secretaries will hold it," Swaraj said, adding, "It will have additional components apart from those in the composite dialogue."
Earlier, speaking at the 'Heart of Asia' ministerial conference on Afghanistan, Swaraj extended a hand of friendship to Pakistan, saying it was time the two countries displayed "maturity and self-confidence" to do business with each other and offered to move cooperation at a pace Pakistan is comfortable with.
"Let me take this opportunity to extend our hand to Pakistan as well. It is time that we display the maturity and self-confidence to do business with each other and strengthen regional trade and cooperation. The entire world is waiting and rooting for a change. Let us not disappoint them.
"For its part, India is prepared to move our cooperation at a pace which Pakistan is comfortable with. But today, let us at least resolve to help Afghanistan -- in the best traditions of good neighbourliness -- through more effective transit arrangements," she said.
Swaraj, who was accompanied by Foreign Secretary S Jaishankar, India's High Commissioner to Pakistan T C A Raghavan and Ambassador to Afghanistan Amar Sinha, said terrorism in that country has grown in both intensity and scope in the last few months and that India was ready to work with the Afghan government to strengthen its defensive capability.
Swaraj will make a detail statement on her Pakistan visit in Parliament on Thursday.
Asked what the "big change" was for India to commence a comprehensive bilateral dialogue, sources said it was the NSA-level meeting to address terror-related issues went off constructively.
They said Pakistani side showed that they understand India's concerns over the Mumbai attacks trial on which the Pakistani side assured India of the steps to expedite the judicial process.
On the Swaraj-Aziz meeting, the sources said some amount of time was spent on the Mumbai trial case.
On renaming the dialogue process, they said, "the sense was that we could re-engage but there are other issues like fishermen and religious tourism which needed to be discussed..."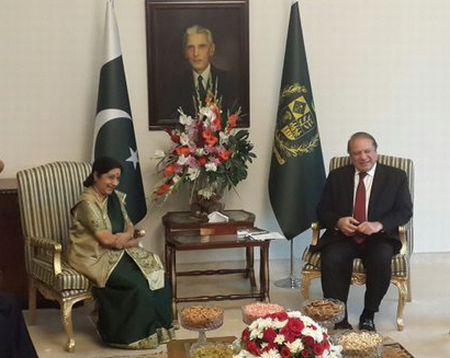 The sources said the dialogue process is not disowning the past but taking forward the broad-based dialogue.
"We wanted more than the existing subset in the composite dialogue that is why it was renamed," the sources said.
They said the Bangkok meeting was a good meeting and the issues were complex but were not dealt in an accusatory manner but in a constructive way.
Swaraj's meeting with Sharif was multi-lingual where Urdu, Hindustani and Punjabi were used for the conversation.
She also met Sharif's family which included four generations of his family -- his mother, wife, daughter and granddaughter.
The effort was to unblock ties and move forward, the sources said.
In her meeting with Aziz, Swaraj discussed a number of issues with the Pakistani side showing an understanding to India's concerns over terror.
Asked about the progress in ties, the sources said this goes back to Paris where the two Prime Ministers desired to find a way to go forward and India saw the 'Heart of Asia' conference as a good opportunity and to convince Pakistan to have NSAs meeting before the external affairs minister comes to Islamabad.
Image: Pakistan Prime Minister Nawaz Sharif's Advisor for Foreign Affairs Sartaj Aziz (right) shakes hands with Indian Foreign Minister Sushma Swaraj after their meeting at the foreign ministry in Islamabad. Photograph: Faisal Mahmood/Reuters; (Lower) Sushma holding talks with Pakistan's PM Sharif. Photograph: MEA/Twitter