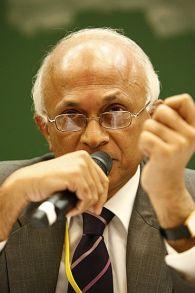 India on Monday raised with Myanmar the incident of bomb blasts in holy town of Bodh Gaya in the backdrop of reports that the attack was a reaction of alleged violence against Muslims in that country.
Foreign Secretary Ranjan Mathai, who is currently in Myanmar for bilateral Foreign Office consultations, on Monday called on Opposition leader Aung San Suu Kyi and Foreign Minister U Wunna Maung Lwin and discussed on Sunday's blasts which were condemned by the Myanmarese leaders, official sources said.
Mathai told the leaders that India will share the outcome of the investigation into the blasts even as the two countries stressed on the need for greater cooperation in the field of security, they said.
Suu Kyi expressed unhappiness and shock over the attack with Mathai assuring that Indian will do every thing possible to keep Bodh Gaya a place of peace and pilgrimage.
Mathai informed the leaders that the injured pilgrim was not in danger and was being taken care of.
The foreign secretary also met the Commander-in Chief of the armed forces Senior General Min Aung Hlaing and exchanged views on bilateral cooperation.
Terror struck one of the holiest Buddhist shrines, the Mahabodhi Temple, and other places in Bodh Gaya with suspected Indian Mujahideen operatives simultaneously triggering nine low intensity bombs leaving two monks injured on Sunday morning.
The temple's sanctum sanctorum and the Bodhi Tree, under which Lord Buddha is believed to have attained enlightenment, did not suffer any damage in the blasts which shook the holy town frequented by lakhs Buddhist pilgrims from Sri Lanka,
China, Japan and the whole of southeast Asia each year.
There were reports that yesterday's blasts were reaction to the alleged violence against minorities in Myanmar's Rakhine province.