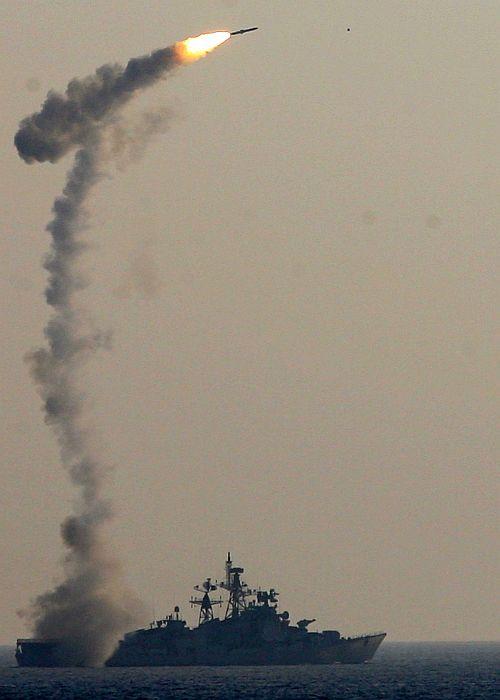 Pakistan has alleged that India was pursuing conventional, nuclear and missile development programmes which can lead to nuclearisation of the Indian Ocean and can disturb the "balance of power" in the region.
Speaking on India's successful testing of a ballistic missile defense system on May 15, Adviser to Pakistan Prime Minister on Foreign Affairs Sartaj Aziz said that apart from this air defence system, India has also recently conducted tests of nuclear capable, submarine-based K4 ballistic missiles.
"Simultaneously large nuclear powered submarines are being built to carry these nuclear armed missile as a part of its second strike nuclear capability," Aziz alleged while making a statement in the Senate, the Upper House of Parliament on Thursday.
"These two developments are part of the massive conventional nuclear and missile development programmes being pursued by India, which are now leading to nuclearisation of Indian Ocean," he said, adding Pakistan would take "all necessary measures" to augment its defence capabilities.
Aziz said that the development of a ballistic missile defense system and nuclear-powered submarines by India will upset the strategic balance in South Asia and affect the maritime security of all the 32 littoral states around the Indian Ocean.
Raising questions over the effectiveness of these missile defence systems, Aziz said the development of Anti-Ballistic Missile system may give India a false sense of security, leading to unexpected complications.
"We are not oblivious to our defence needs and will have to upgrade our defensive capabilities through suitable technologies without entering into an arms race," he said.
Pakistan is also considering to move a resolution in the next session of the UN General Assembly in September to declare the Indian Ocean a "nuclear free zone" and will approach all the 32 littoral states that straddle the Indian Ocean to co-sponsor this resolution, he added.
Meanwhile, Foreign Office spokesman Nafees Zakaria said at his weekly briefing that Pakistan has serious concern over India's supersonic interceptor missile testing.
"Pakistan has serious concerns over India's interceptor missile test and will take all necessary measures to augment its defence capabilities," he said.
He further said that Indian actions were against the spirit of a peaceful and friendly neighbourhood.
"We have sensitised the United States and other members of the Conference on Disarment in Geneva about Pakistan's concerns about India's missile programme," he added.