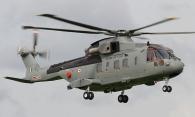 India has been made a party in the VVIP chopper scam trial in Italy which is expected to begin in the third week of June.
The Indian side is in the process of hiring a law firm there to present its case in the Italian trial procedures, government sources said.
The law ministry has been asked to hire the law firm for the case and it has been told that it should be one with a good reputation, with experience of handling such cases in the past, they said.
The Italian prosecutors are expected to present their case against former CEOs of Finmeccanica and AgustaWestland Guiseppe Orsi and Bruno Spagnolini, who were arrested in February this year.
In the case, it is alleged that kickbacks were paid to the tune of Rs 362 crore for securing the Indian deal worth Rs 3,600 crore for supplying 12 VIP choppers for ferrying top Indian dignitaries.
The Italian authorities have also named alleged middlemen, including Guido Haschke and Christian Michael, for paying bribes to their Indian agents.
The Central Bureau of Investigation is also investigating the case. The agency has already questioned former Indian Air Force chief Air Chief Marshal S P Tyagi and his three cousins for their alleged role in the deal.
A number of companies based in India, Mauritius and Tunisia have also been named by the investigation report for having been allegedly used by the middlemen to route their bribes to Indian agents.
India has already taken delivery of three choppers from AgustaWestland while the remaining were supposed to be delivered by the end of this year.
Defence Minister A K Antony took a firm stand on the issue. He suspended the payments to the Anglo-Italian firm and put on hold the delivery of any more choppers pending inquiry in the case.
The defence ministry also issued a show-cause notice to the Italian firm after the scam broke out to initiate the process of cancellation of the contract, which was signed in 2010.