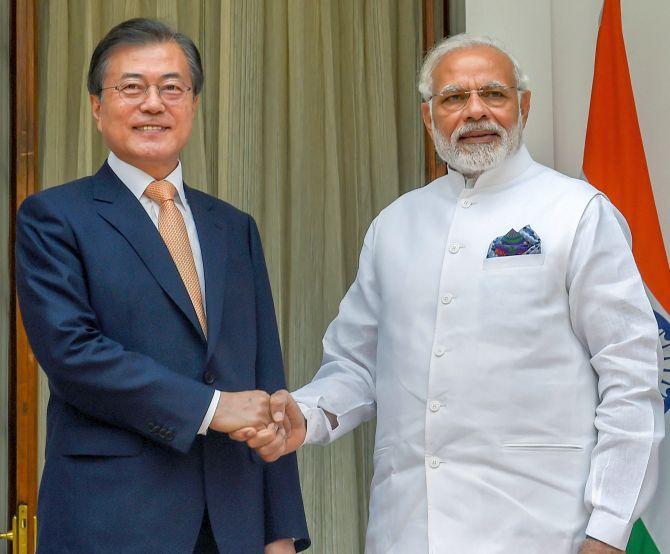 India is a stakeholder in the peace process in the Korean peninsula, Prime Minister Narendra Modi said on Tuesday after holding wide-ranging talks with South Korean President Moon Jae-in during which they resolved to significantly expand strategic cooperation.
The two sides inked a total of 10 agreements covering a broad spectrum of areas including infrastructure, trade, railways, artificial intelligence, big data and anti-dumping.
They also signed a document to facilitate negotiations to upgrade the Comprehensive Economic Partnership Agreement and set a goal of raising bilateral trade from current USD 20 billion to USD 50 billion by 2030.
At a joint media event with Moon, Modi indirectly referred to North Korea's proliferation linkages with Pakistan and that it was a reason why India is a stakeholder in the peace process.
"During our talks, I told President Moon that proliferation linkages between North-East Asia and South Asia is a matter of concern to India. Therefore, India is also a stakeholder in the peace process. We will do our bit to ensure peace," Modi said.
India has been pressing for a probe into North Korea's nuclear proliferation linkages with Pakistan and demanded that those responsible for it should be held accountable.
A vision document released after the Modi-Moon talks said both countries agreed to explore further possibilities to coordinate efforts in defence and strategic spheres besides deciding to enhance military exchanges, training and experience-sharing.
It said the two leaders also reaffirmed that terrorism cannot be justified on any grounds and sought coordinated regional and global efforts to deal with it.
Modi and Moon also reaffirmed convergence of their views in dealing with maritime conflicts in the region, noting that freedom of navigation, overflight and unimpeded lawful commerce should be ensured.
The reference in the vision document is seen directed at China's expansionist behaviour in critical sea lanes. It said South Korea took note of India's inclusive and cooperative vision for the Indo-Pacific region.
The vision document said the two sides resolved to work together to prevent proliferation of weapons of mass destruction and delivery systems, particularly to terrorists and non-state actors.
"These linkages are well known and universally acknowledged," Secretary (East) in the Ministry of External Affairs Preeti Saran said replying to question on whether the reference made by Modi was about proliferation linkages between Pakistan and North Korea.
On his part, Moon said he explained to Modi about his government's efforts to ensure permanent peace on the Korean peninsula and expressed "gratitude" to India's unwavering support for it.
"For peace and security on the Korean peninsula, South Asia and the world, the prime minister and I agreed to work closer," he said.
The South Korean leader said both sides have decided to expand defence and security cooperation including in areas of defence industries.
"We shared the view that now is the right time to lift the partnership to the next level. Today, PM Modi and I agreed to promote cooperation for people, prosperity and peace," he said, adding both countries will work towards creating engines of growth for future.
"We will make mutual summit level visits on regular basis to compliment and support inter-governmental consultation," he added.
He said South Korean companies in India are living up to Modi's Make in India initiative. "Going forward, more Korean companies will invest in India so that the foundation for mutual prosperity can be further expanded."
Referring to the recent summit between North Korea and South Korea and talks between US President Donald Trump and North Korea's Kim Jong-un, the two leaders hoped that these developments will contribute to complete denuclearisation as well as lasting peace and stability in the Korean Peninsula.
The Korean side also supported India's bid to become a member of the Nuclear Suppliers Group.
The two countries agreed to explore tripartite partnership for development in third countries, beginning with capacity building programmes in Afghanistan.
Referring to disputes in the maritime sphere, the vision document said both Modi and Moon recognised the link between prosperity and security and reaffirmed the importance of freedom of navigation, overflight and unimpeded lawful commerce.
"We supported initiatives for peaceful resolution of conflict through dialogue, underlying the centrality of sovereignty and territorial integrity, in accordance with the universally-recognised principles of international law," it said, seen as a clear reference to China.