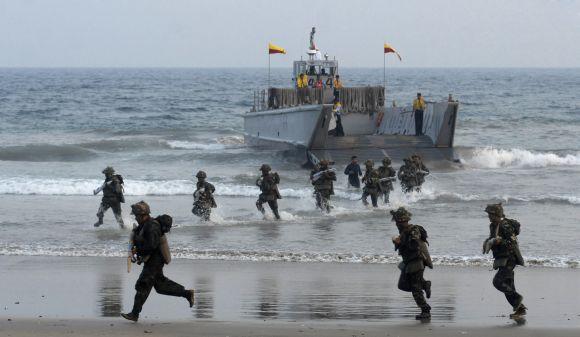 With an eye on beefing up maritime security, India is negotiating a deal with 24 countries for exchange of neutral merchant shipping data as it rolls out a national hub to tackle all aspects of coastal security to prevent another 26/11-like attack.
A final paper for the creation of the long-pending National Maritime Domain Awareness Grid is also complete and is pending approval with the Cabinet Committee on Security. The Indian Navy had earlier this year rolled out its National Command Control Communication and Intelligence Network that allows surveillance of waters around India and can even track ships in South China Sea.
These are part of the decisions taken post the Mumbai terror attacks.
Talking about the inauguration of Information Management and Analysis Centre, slated for Sunday in Gurgaon, Assistant Chief of Naval Staff (Communications Space and Network Centric Operations) Rear Admiral K K Pandey said India is looking at having a tie-up with 24 countries with which it wishes to exchange the wide-shipping data which is neutral merchant shipping data.
He said National Security Advisor Ajit Doval is leading the negotiation with some countries. "We should be firming it up in a very quick time and if that happens, it is a win-win situation for all countries," he said.
He answered in the affirmative when asked if the there were countries east of the Malacca Straits. Pandey said the NC3I is fully functional and the bigger game plan is to go for national MDA.
"That paper is right now cleared from all ministries and is pending with the CCS. Once that comes in, there would be a few more states who will get involved. We will have some more state monitoring centres," he said.
The IMAC, to be manned by the navy and coming under the National Security Advisor, will be commissioned by Defence Minister Manohar Parrikar on Sunday. Under IMAC, 46 Indian radars and satellites, including the radars based in Sri Lanka and Maldives, will be integrated completely in order to provide continuous feed of the movement of vessels in the waters around India.
The need for such a Centre was felt after the November 2008 terror attack in Mumbai by 10 militants from Pakistan who made their way into the city on a trawler and went on the rampage killing 161 people.
Under the scheme, the Centre can monitor 30-40 thousand ships in one day.