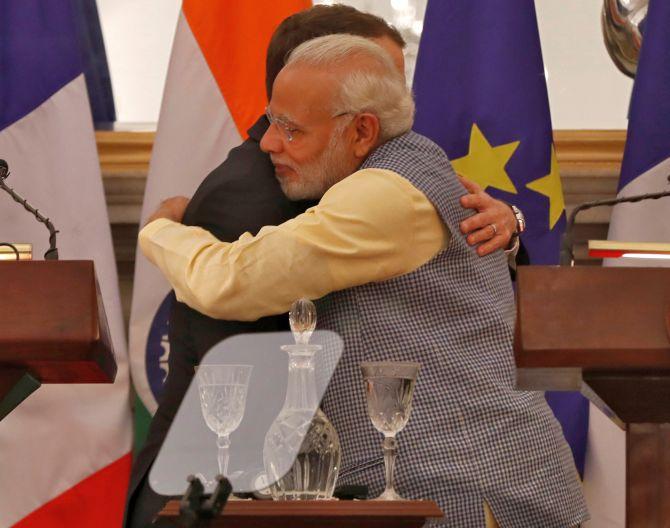 India and France on Saturday inked 14 pacts, including in key areas of defence, nuclear energy and protection of classified information besides resolving to boost cooperation in the Indo-Pacific region, with Prime Minister Narendra Modi asserting that the synergy between the two sides was from "land to sky".
The agreements were signed after extensive talks between Prime Minister Narendra Modi and French President Emmanuel Macron, including on ways to intensify counter-terrorism efforts.
The two leaders strongly condemned terrorism in all its forms and manifestations, including cross-border terrorism, and terror-related incidents in France and India.
Reaffirming their commitment to further Indo-French ties, the two leaders decided to take it to a new level by agreeing to hold biennial summits between the Prime Minister of India and the President of France, a joint statement issued after Modi-Macron talks said.
Addressing a joint press event with Macron, Modi said France is among the "most trusted" defence partners and that today's pact on reciprocal logistic support between the armed forces was a "golden step" in defence relations.
On his part, Macron, who arrived here yesterday on his maiden visit to India, said defence cooperation between the two countries now has a "new significance".
Macron also said, "We want India as our first strategic partner here, and we want to be India's first strategic partner in Europe, and even in the western world."
Apart from issuing 'India-France Joint Vision for Space Cooperation', the two countries also released the 'Joint Strategic Vision of India-France Cooperation in the Indian Ocean Region', with Macron maintaining that both the countries will have "unprecedented" level of cooperation to ensure peace and stability in the Indian Ocean and Pacific.
Modi said both sides have agreed to strengthen cooperation in ensuring freedom of navigation and overflight, as the Indian Ocean will play a key role in ensuring regional peace and stability.
The pacts signed included reciprocal logistic support between the armed forces of the two countries and another on protection of classified or protected information, an agreement that comes in the backdrop of the Indian government refusing to divulge details of the multi-billion dollar Indo-French Rafale fighter jet deal.
"India had made a sovereign decision in this respect (Rafale fighter jet) and we are monitoring the progress in the field. We very much want to continue the programme. It is a long-term contract which is mutually beneficial. I personally consider it as the heart of the strategic partnership," Macron said.
India had signed a government-to-government deal with France in 2016 to buy 36 Rafale fighter jets at a cost of about the Rs 58,000 crore. The Congress has been demanding details of the deal, alleging that the deal negotiated under its rule was much cheaper then the contract signed by the Modi government.
Officials said the French side pushed for procurement of another batch of 36 Rafale jets by India during a meeting between Defence Minister Nirmala Sitharaman and her French counterpart Florence Parly. The Indian Air Force has also been pressing for acquiring 36 more Rafale jets.
Macron also talked about the Scorpene submarine project for the Indian Navy.
On maritime security, Macron said space agencies of both countries will have joint monitoring mechanism for developments in the maritime sphere, while navies of the two nations will share intelligence and call their respective military bases for any requirement.
In his statement, Modi said the strategic partnership between the two countries may be just 20 years old, but the cultural and spiritual partnership was even older.
"The values of liberty, equality and fraternity echo not just in France but are also deeply enshrined in India's Constitution as well," the Prime Minister said.
"Whether it is the environment, or maritime security, or marine resources, or the freedom of navigation and over flight, we are committed to strengthening our cooperation in all these areas...Railway, urban development, environment, security, space, means, from land to sky there is no such topic where we are not working together with each other," Modi said.
Macron also said effectively containing threats of terrorism and radicalisation are going to be key elements in the strategic cooperation between the two countries. He particularly also talked about threat of Islamist terrorism.
"The trust that we share is protecting us as our interests are aligned," said Macron.
The agreement on protection of classified information defines the common security regulations applicable to any exchange of classified and protected information.
Another pact provides for a way forward for the implementation of the Jaitapur nuclear power project.
The two countries also inked pacts for cooperation in other areas, including railways, environment, solar energy, maritime awareness and checking trafficking of narcotic drugs and psychotropic substances.
Talking about the past, Modi said, "From 18th century till now, French thinkers have got an insight into the soul of India through the stories of Panchatantra, Vedas, Upanishads, Epics and great men like Shri Ramkrishna and Sri Aurobindo. Numerous trailblazers like Voltaire, Victor Hugo, Romain Rolland, Rene Daumal, Andre Malraux have found Indian philosophies to be motivating and supplementing their ideas".
Image: French President Emmanuel Macron and Prime Minister Narendra Modi hug each other after attending a signing of agreements ceremony at Hyderabad House in New Delhi. Photograph: Cathal McNaughton/Reuters