In a bid to avoid Doklam-like situation, India and China on Tuesday decided to make more efforts, including strong contact and cooperation between their defence personnel.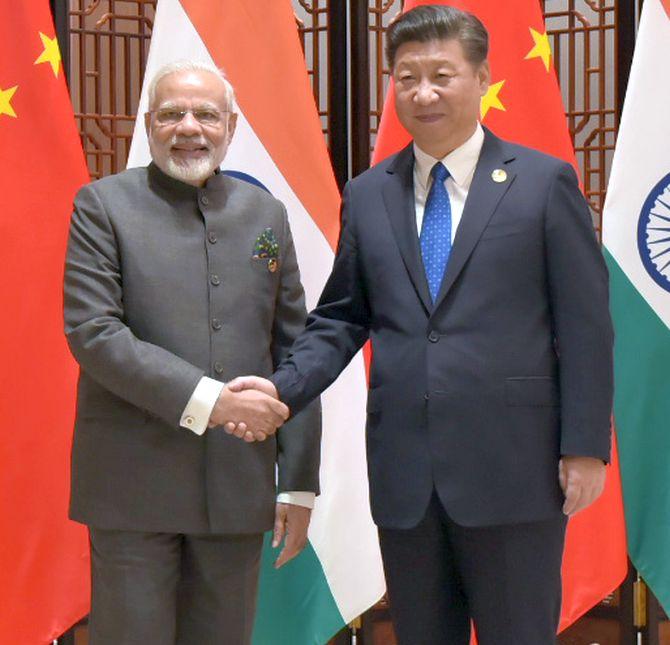 This was announced by Foreign Secretary S Jaishankar after a "constructive and forward-looking" bilateral meeting between Prime Minister Narendra Modi and Chinese President Xi Jinping.
The two leaders emphasised on the need to make efforts to enhance and strengthen the mutual trust between the two sides, he said, adding it was agreed that "the security and defence personnel must maintain strong contacts and cooperation and ensure that the situation which happened recently do not recur."
The prime minister met the Chinese leader for more than an hour during which they also talked about inter-governmental mechanism such as joint economic group, security group and strategic group which can help both countries move forward.
This was the first substantive meeting between the two leaders after the 73-day Doklam face-off.
The Chinese and the Indian troops were engaged in a standoff since June 16 after the Indian side stopped the construction of a road by the Chinese Army.
On August 28, India's external affairs ministry announced that New Delhi and Beijing have decided on "expeditious disengagement" of their border troops in the disputed Doklam area.
India and China had set up a working mechanism in 2013 to ensure peace and tranquility along the border between the two countries.
Under the Working Mechanism for Consultation and Coordination on India-China Border Affairs, officials from the foreign ministries and militaries of both the neighbours meet periodically to resolve issues that may affect maintenance of peace along the border.
The two sides also hold sectoral commanders meeting at various border points.
India asserts that the border dispute covered nearly 4,057-km long Line of Actual Control, while China claims that it confined to about 2,000-km to the area of Arunachal Pradesh, which it refers as Southern Tibet.
In 2003, both the countries had set up the Special Representatives mechanism to resolve the boundary dispute and several rounds of talks were held since then on the vexed boundary dispute.
The Indian side is led by National Security Advisor Ajit Doval while State Councillor Yang Jiechi represents China as the SR.
IMAGE: Prime Minister Narendra Modi meets China's Xi Jinping for a bilateral meet on the sidelines of the BRICS summit. Photograph: Press Information Bureau