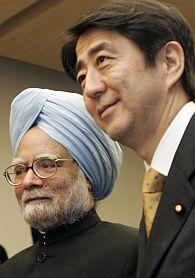 Rediff.com's Vipin Vijayan, who is travelling along with Prime Minister Manmohan Singh as he begins his trip to Japan and Thailand, speaks to a senior government official who explains India's position in the multi-dimensional East Asian politics.
India on Monday stated that it was not under any pressure from China over its growing proximity with Japan.
Talking to Rediff.com on the sidelines of Prime Minister Manmohan Singh's trip to Japan and Thailand that began on Monday, highly-placed sources said there is no pressure from Beijing to go slow on the relations with Japan.
"There cannot be any sort of anticipatory compliance. There are many players in the region today. We cannot interact with one and choose to ignore another," the official said.

Highlighting the fact that India still believed in the non-aligned agenda, the source said that the balance of power in Asia is shifting continuously, with countries like South Korea and Vietnam (which have been working towards becoming a formidable maritime player in the region) making their presence felt in the region.

New Delhi also feels that the involvement of extra-regional powers like the United States and Russia in Asian geopolitics is unavoidable and that the situation is going to turn more complicated in the times to come.

However, the official categorically denied that India is in the race for geo-political dominance in the Indian Ocean region along with Japan and the United States.
Sources told Rediff.com that contrary to the reported Chinese apprehension about the three nations forming a grouping to take on Beijing's clout in the region, New Delhi was 'not working on any such alliance.
The source said, "Everybody uses the Indian Ocean. You cannot wish away that reality. It is upon you to decide what role you want to play in the region."
Elaborating on Dr Singh's recent statement that India was set to be the net security provider in the Indian Ocean, the source said: "The assumption is that we all have to protect sea lanes. However, you cannot force yourself to play a particular role."

"India has been coordinating with countries like China and Japan on maritime security. To an extent, through this continued partnership, we have been able to take on the menace of Somali pirates," the source said.
Experts say that China's aggressive posturing has presented New Delhi with a golden opportunity.

Many Asian nations consider India to be a more stable candidate to partner than Beijing. They want New Delhi to stand up and take charge. However, recent developments like the border dispute in the Daulat Beg Oldi sector in Ladakh have shown New Delhi to be vulnerable to Beijing's high handedness.
Dr Singh will have to play ball with his Japanese counterpart, Shinzo Abe, who himself is out to resurrect his country's position in the region.

Dr Singh sees Tokyo as a key regional player and global partner for India. He sees a growing congruence in the interests of the two countries.
As for Thailand, Dr Singh considers it as an essential part of India's integration with the region. Thailand is also a key component of India's sub-regional engagements in BIMSTEC and the Mekong Ganga Cooperation Initiative.

But New Delhi needs to do more than just talk. It has to engage other nations in determining the power equation of Asia.

Will the prime minister be able to restore confidence in other Asian countries? Will he show them that no country can bully Indian foreign policy? We will have that answer in the days to come.
Image: Prime Minister Manmohan Singh with his Japanese counterpart Shinzo Abe during the former's trip to Japan in 2006
Photograph: Toru Hanai/Reuters