Haley said there was a plan for her to travel to India by the end of this year. She also said that India is a responsible nuclear power.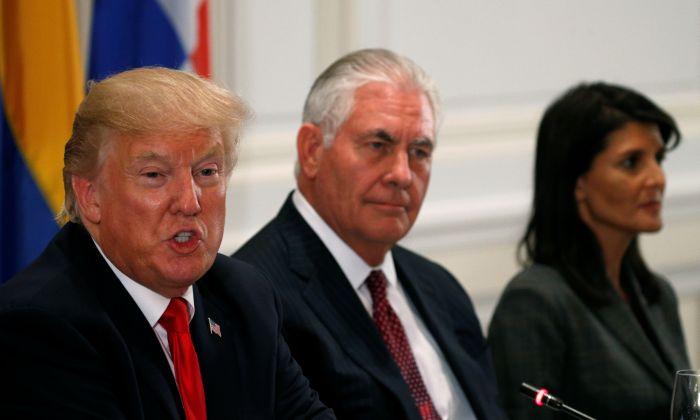 IMAGE: US President Donald Trump with Secretary of State Rex Tillerson and US Ambassador to the UN Nikki Haley during a working dinner with Latin American leaders in New York. Photograph: Kevin Lamarque/ Reuters

India can help the United States keep an eye on Pakistan as President Donald Trump has 'taken tougher approach to Islamabad harbouring terrorists', US Ambassador to the United Nations Nikki Haley has said.
Noting that Trump recently announced a new strategy for combating terrorism in Afghanistan and South Asia, Haley said one of the pillars of that strategy is the development of America's strategic partnership with India.
"America's overriding interest in Afghanistan and throughout South Asia are to eliminate terrorist safe havens that threaten us. And to keep nuclear weapons out of the hands of terrorists, we will use all the elements of our national power economic diplomatic and military to pursue these goals," she said.
Critically we will look to our economic and security partnerships with India, she added.
In her address to an event organised by US India Friendship Council, Haley said Trump has taken a 'tougher approach to Pakistan harboring terrorists'.
"Pakistan has been a partner to the US at times. We value and respect that. But, we cannot tolerate this government or any other government giving safe haven to terrorists who target Americans. This new approach will require understanding and restraint from both Pakistan and India," she said.
The US, she said, is looking at India to help it more in Afghanistan particularly in economic and development assistance.
India has already made important contributions to the stability of Afghanistan.
"We are really going to need India's help in Afghanistan. They are the good neighbours and partner that we have in the region," she said.
"So, having them help not only with infrastructure and the aide that they can give towards rebuilding Afghanistan, (They can) also help us to keep an eye on Pakistan," Haley said.
"That is going to be really important in making sure that we hold them accountable, because we are at a point where we kind of laid the ground work that we need to see better partnership from Pakistan. We can't continue to see them harboring the terrorists. We have to see something change. India is going to witnessing that. India is going to help us with that," Haley said in response to a question.
The Trump Administration is hoping to expand India's contribution in Afghanistan through a deep partnership, she said.
The partnership between India and America is strong and getting stronger because it is rooted in a shared belief in hard work education family and achievement, she said.
"President Trump said when he hosted Prime Minister Modi on his visit to the US in June that, India has a true friend in the US and it is a friendship based on shared values," Haley said.
"Working at the UN really brings home how important it is for countries to share our commitment to democracy. Countries that honour and respect a voice of their people don't threaten peace and security. But, take a look at the countries that are causing most of the trouble in the world. And you will see countries that don't respect the will of their own people," she said.
For instance, Haley said, Trump has just announced a new tougher approach to ensuring that Iran never gets a nuclear weapon.
"It would be catastrophic for the safety of Americans and the world if Iran became a nuclear power. But India is a nuclear power and nobody gives it a second thought. Why," she asked.
"Because India is a democracy that threatens no one," she said.
The US and India have both felt the pain of terrorism and we share the commitment of defeating terrorists and the hateful ideology that motivates them, Haley said.
Responding to a question, Haley said India is a responsible nuclear power.
"We want to show the world that yes there are countries that have nuclear weapon, but they are not supposed to act like North Korea. They are not supposed to manage themselves like Iran," she said.
Haley also said there was a plan for her to travel to India by the end of this year, she said responding to another question.
"There was a plan, possibly I would go (to India) by the end of this year but there's another crisis that has come up that will send me somewhere else. But yes, I mean I would love to go back to India," she said.
"It's amazing and special for me. I was fortunate to be there a few years ago, for the first time when I was two. And it was as magical as my parents say about it. So I look forward to going back to India," she added.
*****
'Key to India becoming permanent UNSC member is not to touch veto'

The key to India becoming a permanent member of the UN Security Council is 'not to touch the veto', Haley said as she identified Russia and China as the two global powers against changes in the current structure of the Security Council.
"(This reform of the UN Security Council) is much more about the veto. The permanent five (members of the Security Council) have the ability to veto. Russia, China, UK (United Kingdom), US and France and none of them want to give that up. So, the key to getting India on the Security Council would have to be not to touch the veto," Haley said.
The US is open to Security Council reform and always have been responding, she said in response to a question from Swadesh Chatterjee, chair of the US India Friendship Council after she delivered her keynote remarks on 'The Role of Congress in Promoting US-India Cooperation on International Issues'.
Haley said the US Congress or the Senate can't have much role in reforming the Security Council.
"Not really. They really can't. Because members of the Security Council are not going to listen to the Congress on the shape of the Security Council," she observed.
Haley said the US is already on board, but there is need to focus 'on Russia and China', the two permanent members of the Security Council who 'do not want to see any' changes in the Security Council.
"It's a UN issue, it's going to require UN reform and I think, India has to go and bring together as many supporters as it can in order to really effect that change in the Security Council," Haley said.
For long India has been calling for reform of the UN Security Council.
India and a large number of countries believe that the current UN and its powerful Security Council does not reflect the ground realities of the 21st century.
Last month, foreign minister of G4 countries -- India, Brazil, Germany and Japan -- met in New York on the sidelines of the UN General Assembly to push their case for reform of the Security Council including expansion of its permanent and non-permanent members.