India along with 35 other nations abstained from voting on a UN General Assembly resolution demanding an immediate ceasefire in Syria and urgent aid deliveries in the war-ravaged country.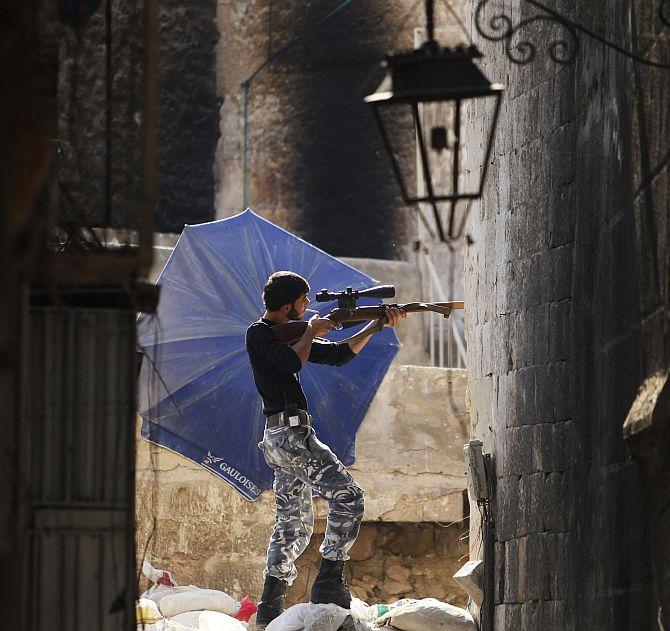 The Canada-led resolution, which expressed "outrage" at the escalation of violence in Syria, particularly war-battered Aleppo, was adopted by a vote of 122 in favour, 13 against and 36 abstentions on Friday.
Indian diplomatic sources said that India abstained from voting on the resolution in line with its traditional approach that it does not mix humanitarian issues with political issues.
The sources said the resolution had several elements mixed up -- the humanitarian elements mixed with a large amount of political elements, which are "contentious".
"The resolution had elements addressing the humanitarian situation mixed with political viewpoints of the sponsors which made for an uncomfortable cocktail. Consequently we abstained in line with our approach that is for a delineation of humanitarian issues from the politics of a situation," the sources said.
The 193-member Assembly adopted the resolution demanding an immediate and complete end to all attacks on civilians as well as an end to all sieges in war-ravaged country.
The Assembly also expressed grave concern at the continued deterioration of the devastating humanitarian situation in the country and demanded "rapid, safe, sustained, unhindered and unconditional humanitarian access throughout the country for UN... and all humanitarian actors."
Action in the Assembly comes just days after the UN Security Council failed to adopt a similar resolution demanding a ceasefire in Aleppo, as two of its permanent
members, China and Russia, cast their vetoes.
China, Russia, Iran and Syria voted against the General Assembly resolution, while Bangladesh, Iraq, Lebanon, Myanmar, Pakistan and Nepal abstained.
American Ambassador to the UN Samantha Power said while the resolution is far from perfect, it is a vote to "stand up to tell Russia and (Syrian President Bashar) Assad to stop the carnage."
"This is a vote to defend the bedrock principles of how states should act, even in war. This is a vote to demand food, medicine, and safety urgently for a population in eastern Aleppo who have none," she said.
Power said Russia and the Assad regime have displaced at least 32,000 people in the last two weeks alone and their campaign of airstrikes have struck every single hospital in eastern Aleppo.
"The people left in eastern Aleppo do not know where to go. Some get shot in the street as they try to flee, others stay in their basements hoping Russia and Assad's aircraft refrain from dropping a bomb over their heads this time. Still others make it across the front line, only to have Assad's intelligence agencies forcibly disappear them," she said.
Russian envoy to the UN Ambassador Vitaly Churkin had said a day before the vote that the UNGA vote is not very effective and to expect that it is "going to produce some kind of dramatic U-turn in the situation in Syria is unrealistic."
When asked why Russia did not take part in negotiations on the draft resolution, he said there were things that needed to be included in the draft resolution, which is not strong enough on fighting terrorists in Syria.
The UN human rights wing warned that there may currently be around 100,000 civilians in areas under the control of armed opposition groups in eastern Aleppo, with another 30,000 believed to have fled heavy bombardment to areas under government control.
The Assembly's measure stressed on the need that all parties to the conflict must fully and immediately implement all provisions of various Security Council resolutions concerning the situation in the country, and underscored that all parties must "take all appropriate steps to protect civilians and persons hors de combat, including members of ethnic, religious and confessional communities."
To that end, it noted that "the primary responsibility to protect (Syria's) population lies with the Syrian authorities."
In the resolution, the General Assembly expressed outrage at extensive and persistent violations of international humanitarian and human rights laws, especially through shelling and aerial bombardment, use of chemical and other prohibited weapons, and use of siege and starvation of civilians as a method of warfare, that have caused profound suffering and loss of life and created conditions "conducive to the rise and spread of terrorism."
It also expressed deep concerns at presence of terrorist organisations in the country and condemned attacks and violations of human rights and humanitarian law perpetrated by them.
"Terrorism in all its forms constitutes one of the most serious threats to international peace and security and that any acts of terrorism are unjustifiable, regardless of their motivation, wherever, whenever and by whomsoever committed," the resolution reaffirmed.
Highlighting that the only sustainable solution to the current crisis in the country is through an inclusive and Syrian-led political process that meets the legitimate aspirations of the Syrian people, the General Assembly reaffirmed its support for a credible, inclusive and non-sectarian political process, involving women and civil society.
It further urged the Security Council to "exercise its responsibility for the maintenance of international peace and security by taking additional measures to address the crisis in the Syria, in particular the devastating humanitarian crisis, and stresses in this regard Article 11 of the UN Charter."
Since the crisis erupted in 2011, the humanitarian situation in the country has taken a downward spiral with more than 13.5 million Syrians now in need to humanitarian assistance and nearly 6.3 million people internally displaced. More than four million Syrians have been driven out of the country as refugees, including hundreds of thousands in Europe.
The conflict has also killed hundreds of thousands of people, including many children. Almost a million people (974,080) remain trapped in besieged areas and nearly 3.9 million people in hard-to-reach areas.
Photograph: Reuters