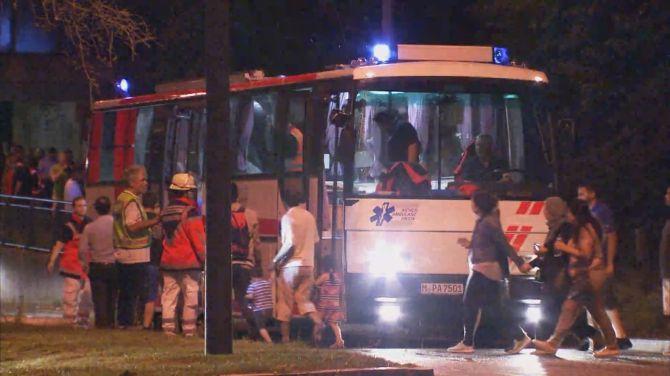 IMAGE: A screengrab taken from video footage shows people being evacuated onto a bus following a shooting rampage at the Olympia shopping mall in Munich, Germany on Friday. All photographs: Reuters TV

As the reports of a shooting spree at a shopping centre in Munich emerged, panicked shoppers started fleeing the mall and armed police roamed the streets in the search for the attackers who escaped, reportedly to a nearby metro station.
Since the attackers were at large, the public transport in the southern German city was completely suspended and people were advised to stay indoors. This left Munich completely locked-down and people stranded, vulnerable to further attacks.
About this time, the hashtag #Offenetuer, or 'open door', started trending on social media and people of Munich started offering space in their own homes to strangers who were stranded without a way to get home.
Moreover, while the police was still investigating whether it was actually an attack by the 'jihadists' and asking social media users to exercise restraint and not to jump to conclusions, an Islamic newspaper Islamische Zeitung tweeted that mosques in the city will open overnight to provide shelter to stranded people, reported the BBC.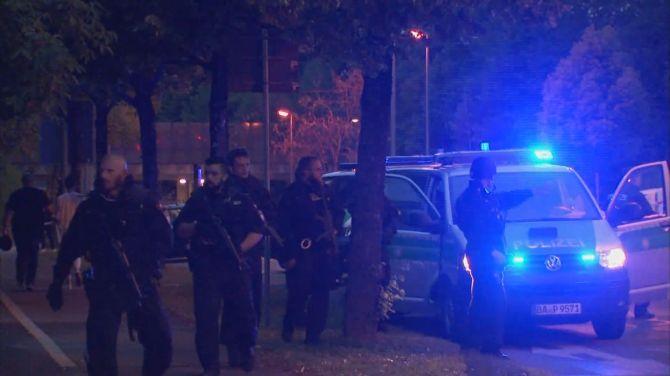 IMAGE: Authorities in Munich said they're using all emergency services available to deal with the situation.
Meanwhile, leaders from across the world expressed solidarity with Munich victims and offered help to the administration, which was overwhelmed by the crisis, 'using all emergency services available' to deal with the situation.
United States President Barack Obama pledged support to Germany, as officials said they were working to determine if any US citizens were affected.
Obama, speaking at a meeting with law enforcement officials, said he had been briefed on the unfolding drama in Germany.
"Our hearts go out to those who may have been injured. It's still an active situation, and Germany's one of our closest allies, so we are going to pledge all the support that they may need in dealing with these circumstances," he said.
American citizens in Germany were urged to contact loved ones to let them know their whereabouts.
Democratic Presidential nominee Hillary Clinton tweeted, 'Monitoring the horrific situation in Munich. We stand with our friends in Germany as they work to bring those responsible to justice.'
IMAGE: A screengrab taken from video footage shows special police officers near the Olympia shopping mall in Munich.

Social media giant Facebook activated its Safety Check feature so people in the area can let their friends and relatives know if they are safe.
'Deeply shocked & saddened by Munich shootings. My thoughts are w/ the victims, their loved ones & all Germany at this time,' tweeted British Foreign Secretary Boris Johnson.
Canadian Prime Minister Justin Trudeau said, 'The government of Canada is closely monitoring the situation in Munich. We stand with Germany & offer our sympathies to victims & families.'
Cops in Munich, who had earlier asked people not to upload photos/videos of the attack on social media, later asked witnesses to upload videos or pictures to help them with their investigation.