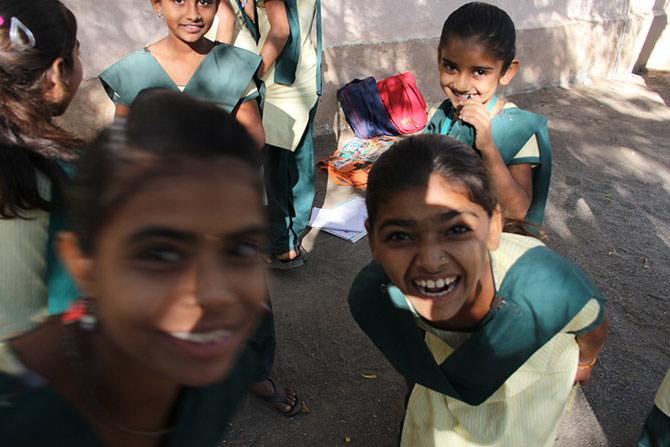 The Congress will provide sanitary napkins to girl students in Gujarat free of cost by abolishing goods and services tax if voted to power, All India Mahila Congress president Sushmita Dev announced in Vadodara on Wednesday.
Dev also attacked Narendra Modi government for imposing '12 per cent' GST on sanitary napkins, which she said 'runs contrary' to the government's 'Beti Bachao Beti Padhao' campaign for girls.
"Imposition of 12 per cent GST on sanitary napkins is a big shocker for poor girls and women. The Modi government did not slash the tax (on sanitary napkins) despite demands raised by various NGOs and women's group though it reduced the tax on other items," Dev said while addressing reporters.
The campaigning for the first phase of polls, slated for December 9, will end on Thursday.
If voted to power, Congress will provide sanitary napkins to girl students of schools and colleges in the state free of cost, she said.
Dev said not reducing the GST on sanitary napkins is 'contradictory' to the 'Beti Bachao Beti Padhao' campaign of the central government.
"At one end, the government is promoting healthier menstrual hygiene practices among girls and women while on the other hand they are increasing the cost of sanitary napkins," said Dev, who represents Silchar seat in Assam in the Lok Sabha.
She said the imposition of 12 per cent GST on sanitary pads is a 'regressive move in the menstrual health discourse', which will take a toll on health of poor girls and women who lack the access to sanitary napkins.
Dev sought to link the 'rising girls school dropout ratio in Gujarat' with costlier sanitary pads.
"I am afraid that higher price (of sanitary pads) on account of GST might push girls back to adopting unhygienic menstrual practices," the Congress leader said.
Dev also attacked Gujarat Chief Minister Vijay Rupani for 'not filling up' posts of women in the state police department.
Former Chief Minister Anandiben Patel had in 2014 announced 33 per cent quota for women in Gujarat police force.
Dev also claimed that the Gujarat Police have been refusing to register complaints of rape sought to be lodged by victim women.
"Congress will set up a committee in each district of Gujarat to extend help to the victims of rape," she said.
Speaking after Dev, Congress national spokesperson Priyanka Chaturvedi termed as an "eyewash" the 'Beti Bachao Beti Padhao' campaign.
"When it comes to female sex ratio in Gujarat, the state is ranked at 24th position in the country. Rate of literacy in women is also low in Gujarat," she said.
Chaturvedi accused the prime minister of 'remaining silent' on the Naliya gangrape issue while addressing public rallies in the poll-bound state.
"Modi didn't say a word about the gangrape because some BJP office-bearers are allegedly involved in the crime," she said, adding that no progress is made in the case despite the chief minister ordering a judicial inquiry.