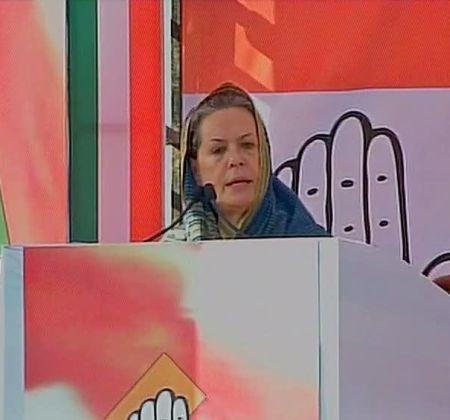 In a blistering attack on Prime Minister Narendra Modi, Sonia Gandhi on Saturday said the new government was behaving as if governments since independence have done nothing for the country and asked him what happened to his promise of bringing back black money.
"They are creating such an atmosphere as if nothing has happened in the country since Independence and they will change everyone's fortunes overnight. Have any steps been taken to fulfil the promises made during the elections. What happened to their promise of getting back the black money from abroad within 100 days of coming to power. Have any steps been taken in this regard? Absolutely not," Gandhi said at a rall, hours after Modi urged voters in Haryana to oust the Congress.
"A country is not built in a day's time. For the development of a nation it takes years of hard work, the right intention and the willingness to sacrifice," she said.
Accusing the Modi government of hijacking policies of previous Congress regimes, she urged the people not to get swayed by "hollow promises" and said that Congress was the only party which would ensure that development continues in Haryana.
"At the time of the elections, I urge you to take a decision after listening to your brain and not your heart. To seek votes they try to play with your emotions, may hollow promises. Beware of such designs," the Congress president said. "Those who lure people with their false dreams only to secure power have nothing to do with progress or people of the state," she said.
She also accused the ruling Bharatiya Janata Party of rechristening the schemes of the United Progressive Alliance and presented them before people, after having criticised the same schemes during UPA regime.
Gandhi also urged people of the state to elect the Congress once again to ensure speedy progress and to take forward the development initiated by the party in the last 10 years for it to be cited as an example across the country. "Congress is not such a party which believes in presenting others' works as its own," she said.
Stating that these elections are very important for Haryana, Gandhi asked if any of the promises made by BJP during Lok Sabha elections five months ago have been fulfilled after coming to power. "Have prices come down? Have the poor started getting cheaper two meals a day or have the youth got more employment?" she said.
Claiming that the Congress has ushered in a strong foundation of development in Haryana, she said, "Congress has done the real work. In Haryana, Congress in the last 10 years has done such things which were never done earlier."
Image: Congress president Sonia Gandhi addresses crowds at Meham, Haryana. Photograph: ANI/Twitter