Indians in and around Ferguson, Missouri, tell Arthur J Pais and Suman Guha Mozumder what it's like to be caught in the thick of America's racial volcano eruption
"They burned down my meat shop," said Mike (Mahesh) Patel. "I still cannot believe that they did it. And they looted my convenience store."
The shop was packed, just like any meat shop in the holiday season, with turkeys, prime cuts, sausages, and expensive smoked meats. And the liquor shop was filled with choice brands of alcohol, especially meant for the Thanksgiving week.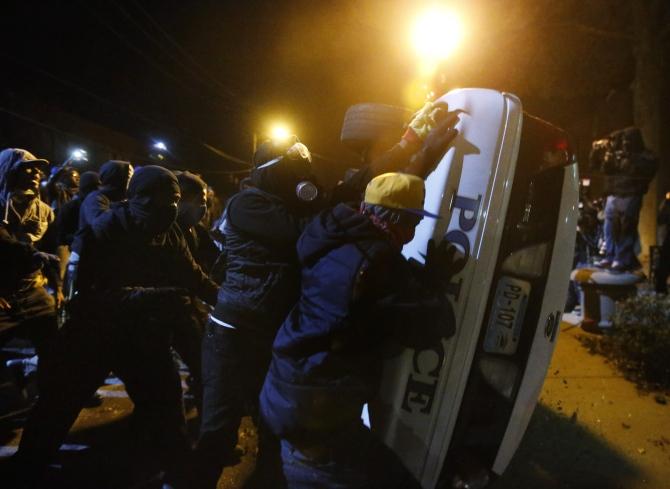 Protesters try to flip over a Ferguson police car, in Ferguson, Missouri, in this photograph taken on November 25, 2014. Photograper: Jim Young/Reuters
The shops in Ferguson, Missouri, were burned and looted a few days before Thanksgiving by a mob outraged after a grand jury decided to not indict Darren Wilson, the white policeman who had killed Michael Brown, an unarmed black 18-year-old.
Earlier, the Ferguson police had released a security video taken from Ferguson Market & Liquor that allegedly showed Brown stealing cigarillos worth $46 and shoving a store clerk shortly before Wilson shot him August 9. But the owner of the shop, Andy Patel, who had leased it from Mike, had not called the police or lodged a complaint fearing he would be called a snitch, some reports said. The Patel-owned store is among dozen of nondescript shops in the area mostly run by immigrants. The shops hardly make money, and only those who own several shops can boast of a bank account.
The Ferguson Market was broken into and looted for days afterwards. Though it resumed business, it was boarded. That did not prevent vandalising mobs from targeting it and robbing it after the grand jury decision. Dozens of youngish men got away with whatever they could grab and got out of the store's window. A family business, it has been featured in the media a great deal. Mike and his family run a host of businesses in the St Louis area and lease several other stores, including a beauty supply store and Sam's Meat Market, to other immigrants, some of whom are Arabs including Palestinians.
Over two dozen other convenience stores, liquor marts, and other small businesses owned by Indians were also looted or destroyed in the mob fury. There were some suggestions that the mobs had targeted Indians shops. "That is not true, we were not singled out, Mike said. "They looted shops and restaurants (owned) by Chinese, they went after Arab businesses. They totalled cars, smashed up windows, and attacked all kinds of businesses. I don't think anyone was really conscious of who owned what. They looted and damaged a McDonalds. And they looted the businesses owned by their own people."
Ferguson, which is a part of St Louis, has a population of about 22,000. A predominantly white town 100 years ago, it is about 70 percent African American now, with Asians and Arabs comprising about 1 per cent of the population. It has followed the pattern of many cities in America, including Newark in New Jersey and Detroit, where the white population has moved to the suburbs following the increase in the visibility of (mostly) African Americans and Latinos. The police have remained mostly Caucasian, even as the town has been undergoing dramatic population change in the past four decades. Over 200 Indian families live in the greater St Louis area.
A large number of them are professionals, own businesses and are in the information technology sector. Some operate motels and a few run the drab looking convenience stores. "We have had a very good relationship with the African-American community," Patel said. "But in a mob fury anything can happen." He also suspected many trouble makers came from outside Ferguson. "I don't know what to make out of this whole thing," he said.
"I do not know who to believe. But one thing I am sure. If the government had acted efficiently, there would not be all this looting and destruction." There have been allegations that Missouri Governor Jay Nixon and the police did not work swiftly to save Ferguson from mob violence. 'Governor Nixon has let down everyone, whites and blacks,' said a letter to the editor of a local publication. Many Indian Americans, speaking anonymously, said the police and the governor had failed in their repeated assurances that they will protect the businesses. In the second week of October, a handful of leaders championing better understanding between South Asian and Mideast immigrants in the St Louis area and the African Americans and Latinos, visited Ferguson.
'Those of us who remember the tensions that arose between Korean-owned business owners and African-Americans in Los Angeles after the Rodney King verdict in 1992 were concerned about what might occur in Ferguson,' Deepa Iyer, civil rights leader and former executive director, South Asian Americans Leading Together, wrote on Huffington Post. She said in mid-August she asked civil rights attorney Angela Oh, who had helped build bridges between communities in Los Angeles, for advice. 'She was clear: Monitor the media because they often inflame tensions,' Iyer wrote.
Oh also told Iyer, 'Remember that the underlying problems that communities of colour and immigrants face are similar -- structural racism, economic distress, neglected neighbourhoods. And give people opportunities to connect with each other to find solutions to these shared challenges.' Iyer travelled to Ferguson to join a group of South Asians, Muslims, Arabs and Asian Americans for the National Weekend of Resistance.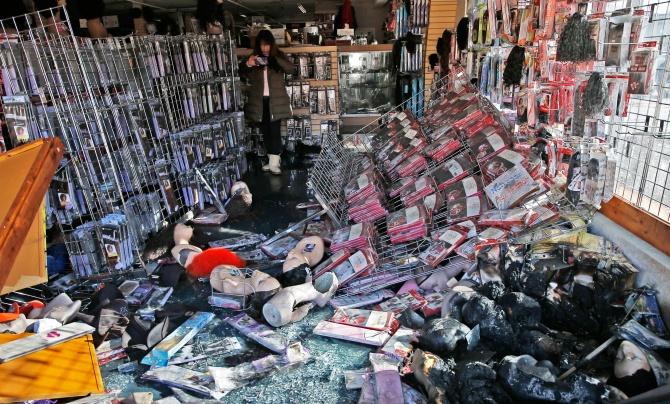 Damaged goods lie on the ground of a store in Ferguson after protesters went on a rampage following the not guilty verdict to the cop in the Michael Brown case.
'We were there to stand in solidarity, to learn and listen, and to lift up the central message that black lives matter,' she said. She also met with Faizan Syed, executive director, Council on American Islamic Relations, in St Louis, who organised visits for her and other like-minded visitors with a few Arab, Muslim and South Asian small-business owners in St Louis and Ferguson.
Meanwhile, Mike and other business owners are pondering over how to get back their investment, if the insurance would pay them for the damages, and what to expect from the city which has too many economic problems. "We have been here for long and we would like to stay here," Mike said. "But would there be better assurances from the community and the government?"
"I think the Indians take a neutral stand and there are good reasons for that," said Ashwin Patel, business owner and a long-time resident of St Louis, Missouri. "They have to be in the neutral position because, first of all, there are not many Indians or South Asian residents in Ferguson. Even the less than a dozen families who live here and run small businesses do not live with their families." "Second, they need support from the local black community because they are the customers, but they (Indians) also want the support from the police for their protection. People (Indians) in Ferguson close their shops at night and go to their homes which are out of Ferguson.
So, they have no choice. They cannot take any side." Ashwin runs a travel agency in Ferguson for more than 35 years, but lives outside the town.
While there is no doubt that the police should not have killed Michael Brown and there is a need for diversifying the police force, Ashwin said, African-American youngsters are not really interested in governmental jobs. "For instance during local elections, you would hardly find any person from this community to run, nor anyone to apply when the police or other government departments invite applications for employment," Ashwin said.
"But please do not take it as my support for the government officials. This is what the ground reality is." Indian spiritual guru Sri Sri Ravi Shankar visited St Louis for two days in October, and met the mayor of Ferguson, the police chief, councilmen, African-American community and church leaders. "His main message was that in order to create peace in the community we need to make sure that the individual is peaceful," said Zankar Desai of the Art of Living Foundation in St Louis.
"The guru said that what happened with Michael Brown's case was a trigger to all that emotions that they had been suppressing for years or decades. Right now their negative emotions are coming and that is why all these agitations and all that chaos and turmoil in the society," Desai added.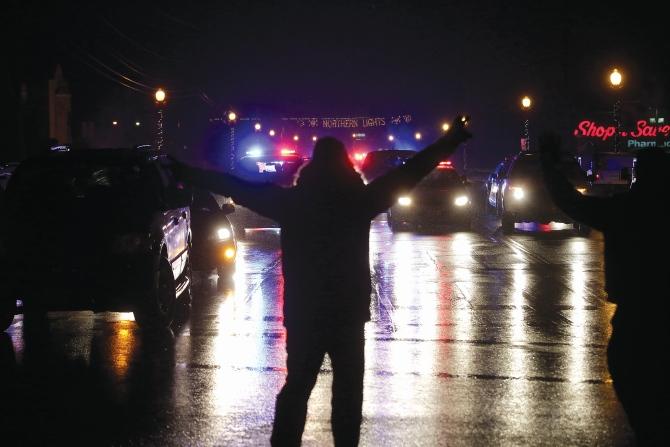 A protester walks in the street with his hands up after the grand jury verdict in the Michael Brown shooting in Ferguson. Photograph: Jim Young/Reuters
Professor Pratim Biswas of Washington University in St Louis said the Indian-American community in the city is 'deeply concerned' with the happenings in Ferguson, "and especially with the violence that has so unfortunately gripped a neighborhood in our region." "We also understand," he said, "The difficult position and risks that are faced by law enforcement personnel as they perform their daily duties… This is a challenge of great proportions, and even our President has said it is not a local problem, but America's problem."