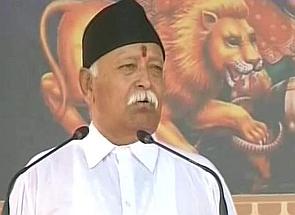 Rashtriya Swayamsevak Sangh chief Mohan Bhagwat on Friday came out in fulsome praise of the Modi government for initiatives on national security, economy and international relations in a short period of four months.
In his customary Dusshera address to RSS workers at Reshmbagh ground in Nagpur, which was shown live on Doordarshan for the first time, he said, positive signs are emanating that give people the hope that India is emerging stronger on the international stage.
He said people should give some more time to the government for expedition and efficient execution of its policies.
Unless the last person in the country feels satisfied with welfare initiatives, security and safety, the government cannot complete its task, Bhagwat said. "We don't have a magic wand to change but the government seems committed," he during the address.
Bhagwat said Prime Minister Narendra Modi's recent visit to the United States has sent positive signals and has ushered a new enthusiasm among people of the country.
"A new ray of hope has entered in the hearts of the people. The entire country was feeling proud of the visit and the subsequent talks with the US government," he said, adding, the world needs India.
He also lauded the efforts of the Centre and volunteers of the RSS for undertaking rescue works in Jammu and Kashmir which has recently witnessed worst-ever floods.
While paying homage to those killed in the floods, Bhagwat said, "Our sympathies are with the families."
The swiftness, efficiency and open-heartedness of the central government that has provided relief to the affected people, deserves appreciation, he said.
The Sangh patriarch did not touch on issues like religious conversion, corruption, Naxalism, Indo-China relations, inflation, elections (in reference to Maharashtra and Haryana polls to be held this month).
Speaking on global terrorism, Bhagwat blamed the selfish interest of western countries for procuring oil in West Asia for rise in terror activities of the Islamic State. "Self-centred collective greed gives rise to exploitation, suppression, violence and fanaticism. The basis of selfish interest by the western countries is fully responsible for a new incarnation of terror and fundamentalism that emerged in West Asia in the name of ISIS which is terrorising the world," Bhagwat said.
There is no doubt that most countries and religious groups of the world are unitedly fighting against the menace, he said at the annual RSS event which this year marks the 90th year of its existence.
The right-wing, volunteer Hindu nationalist organisation was formed on Vijaya Dashami in 1925 in Nagpur.
Image: RSS chief Mohan Bhagwat addresses cadres on the occasion of Vijaya Dashmi at Reshmbagh ground in Nagpur