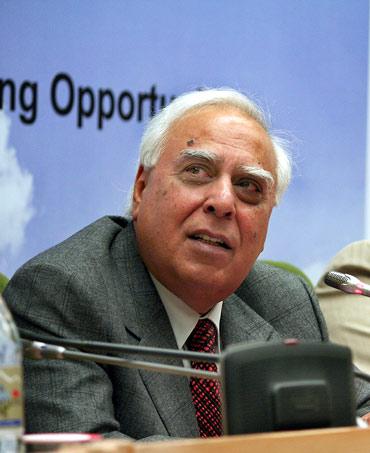 Human Resource Development Minister Kapil Sibal began his keynote address on 'Diaspora and Education: The Emerging Opportunities
'
at the inaugural session of the 9th Pravasi Bharatiya Diwas 2011 at Vigyan Bhawan in Delhi on a rational pitch and concluded it with a strong emotional appeal to the Indian Diaspora.
He concluded his keynote address by appealing to the Diaspora to come back to a confident, hopeful and proud India to rediscover what they left behind and collaborate with the government and educational institutions to meet the demand-supply mismatch in the education sector.
"Today 14 million people are served by 600 universities, 26,000 colleges. But in 2020 considering a gross enrolment ratio of 30 per cent this figure will touch 40 million. So, in the next 10 years we will have to create 1,000 more universities and 45,000 colleges to cater to such demand," he said referring to the "monumental challenge before the country".
He said that this collaboration was needed to "empower the minds" of Indian students "so that they can create intellectual property rights and ideas and help increase the country's gross domestic product".
Expressing his fears about the huge number of illiterate and uneducated people in the country he said, "I shudder to think what will happen to a nation that doesn't allow its youth to empower themselves through education."
Speaking about the emergence of a New World Order he said that knowledge economies would dominate this new paradigm. "The New World Order is not about colonisation of land and markets but about colonisation and enslavement of minds. And that is possible only in a knowledge economy that is based on quality education. We need to think of education and technology as critical tools for our growth trajectory," Sibal said. 

"And it is to make this possible we enacted the Right to Education bill in Parliament, which envisages that in the next five years every Indian child will go to school. Wealth of a nation is not reflected in its gross domestic product or per capita income but through an intangible like the empowerment of mind," he emphasised.
However, he cautioned that to emerge on top of this New World Order, India will need to open its education sector.
"There are some mind boggling challenges before us in the next 10 years. And it is here we see the power of collaboration with 25 million Indian Diaspora spread across the globe in meeting this challenge. Providing access to education will become an US $ 80 billion opportunity. For this purpose we have opened up higher education sector with certain provisions," the HRD minister said.
He envisaged that unless the Indian education system is based on three pillars of access, equity and excellence we won't be able to create intellectual property.
"By which I mean equal access that the right to education will offer to the underprivileged Indians, minorities, scheduled caste, scheduled tribes and the backward classes," Sibal said.
But he warned that access to education must be equitable. "We need excellence and quality education to compete with the best in the world. But it is not easy to get all the three together quickly, he said expressing his concern"
The HRD minister however couldn't restrain himself from taking a political dig at the chief opposition party, the Bharatiya Janata Party, in front of the gathered Diaspora. He said that but for the opposition the foreign education providers bill would have been passed in the winter session of Parliament. The entire opposition led by the BJP did not let Parliament function for almost 23 days during the winter session.
"We need an agenda that will take our country forward. If you don't like this government you can throw it out by passing a no confidence motion. You cannot have the luxury of stopping the normal functioning of the government," he said while speaking how the education malpractices bill, that was likely to be tabled during the winter session, would bring more transparency in which many Indian institutions, including some deemed universities function.
"Foreign education providers bill would allow anyone of you, foreign universities, institutions abroad to enter into arrangements, joint ventures, or provide partial degrees," Sibal said.
In a tangential hint to all those foreign universities planning to set shop in India as a profitable venture once the field is opened to them he said, "Education is not about paying dividends to your shareholders. It is about ploughing profits back to create institutes of excellence. Ninety five per cent of US universities function on that basis."
The minister made a special note of the contribution of Wipro chairman Azim Premji's contribution to philanthropic and education activities in India. "I am happy to note that titans of Indian industry are getting involved in philanthropy and education fields. Azim Premji has pledged US $ 2 billion for this purpose," he said.
Lauding the giant strides that India has taken in the field of technology and offering low cost but high-quality human resources to multinational companies, Sibal said "All the big multinational companies are coming to India not because of their love for the country but for the love of their survival."
Image: HRD Minister Kabil Sibal at the inaugural session of the 9th Pravasi Bharatiya Diwas in New Delhi
| Photograph: Uttam Ghosh/Rediff.com