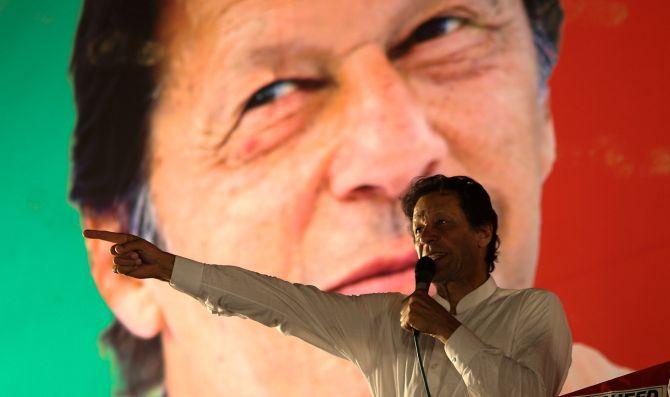 Imran Khan was inching closer to form a government in Pakistan with the support of allies and independents even as a multi-party meeting called to devise a joint strategy over alleged vote rigging on Friday rejected the results of the polls and demanded 'transparent' re-election.
So far Khan's Pakistan Tehreek-e-Insaf party has bagged 118 of the 270 National Assembly seats on which elections were held and was leading in another two constituencies where counting was still on.
Khan's party was followed by jailed former prime minister Nawaz Sharif's Pakistan Muslim League-Nawaz with 62 seats and former president Asif Ali Zardari's Pakistan Peoples Party with 43 seats.
Independent candidates have won 12 seats, according to the election commission which has so far issued results for 265 seats of the National Assembly.
Pakistan's National Assembly comprises a total of 342 members, of which 272 are directly elected. A party can only form the government if it manages to clinch 172 seats in total.
PML-N supremo Nawaz Sharif on Friday reiterated his party's allegations, saying the polls had been 'stolen' and the 'tainted and dubious' results would cast a 'bad impact' on the country's politics, according to a number of his party leaders who visited the Adiala jail in Rawalpindi to meet him.
A multi-party meeting called to devise a joint strategy over alleged rigging in the general elections today rejected the results of the poll, demanding a 'transparent' re-election, Dawn reported.
Attended by leaders of various parties, the meeting in Islamabad was chaired by PML-N president Shehbaz Sharif and Muttahida Majlis-i-Amal (MMA) president Maulana Fazlur Rehman.
"We do not consider this election to be the mandate of the public," the paper quoted Rehman as saying.
"The APC (all parties conference) has completely rejected the July 25 elections with consensus," he said.
The meeting was attended by Jamaat-i-Islami (JI) chief Senator Sirajul Haq, Sindh Governor Mohammad Zubair, Awami National Party chief Asfandyar Wali Khan, Qaumi Watan Party chairman Aftab Ahmad Khan Sherpao, National Party's Senator Mir Hasil Bizenjo and several MMA leaders.
Mutahidda Majlis-e-Amal, an alliance of traditional religious parties like Jamat-i-Islami, has clinched 12 seats while Pakistan Muslim League of former Punjab chief minister Pervaiz Elahi won 5 in the parliamentary polls.
Karachi-based Mutahida Qaumi Movement has won six seats.
Senior PTI leader Jahangir Tareen made calls to MQM leaders after which the party decided not to attend a meeting of political parties called by the PML-N.
However, senior MQM leader Farooq Sattar was present in the APC meeting.
In his first speech that was broadcast live via video link on Thursday, Khan had claimed victory in the elections and said that he was ready to probe allegations of rigging in the polls.
In the 342-member National Assembly, the PTI's strength will be 160 after acquiring 29 women's reserved seats and 4 or 5 reserved seats for minorities, according to experts.
Khan's ally PML-Q has won five seats and it can also have one seat reserved for women. Sheikh Rasheed of the Awami Muslim League is already supporting Khan. The PTI is in contact with MQM, which has assured its support to Khan.
Some independents are in talks with PTI and they are likely to extend their support to Khan, helping him attain the figure of 173 which is a simple majority, they said. Some smaller Baloch parties could also support Khan.
PTI spokesman Fawad Chaudhry said that they have the required numbers to form government at the Centre, Dunya News TV reported.
The elections for the parliament and four provincial assemblies were held on Wednesday and the announcement of the results has been marred by delays in transportation of results from polling stations to centralised election offices.
Early on Friday, Khan chaired a meeting of the top PTI leaders at his Bani Gala residence where he was assured by them of having the numbers to form the government. The meeting also discussed possible Cabinet names.
The results showed that in the provincial assemblies PML-N was leading in Punjab - the most populous province - with 127 seats in the house of 297, but fell short of a majority.
Khan's PTI with 123 seats is negotiating with independents, most of whom parted ways with the PML-N before the polls and contested independently.
The independents with 29 seats are the third largest group and will play a crucial role in the formation of the next government in Punjab, which has been ruled by the PML-N for the last two terms from 2008-2018.
Khan's ally PML-Q has got seven seats in the province.
In the 297-member House, 149 seats are required to form the government.
The PTI has already announced to form the government in Punjab, a move which may lead to allegations of horse trading.
In Sindh assembly, the PPP has got a clear majority by winning 74 seats in the house of 131. It is followed by PTI with 22 seats and MQM by 16.
In Khyber-Pakhtunkhwa, the PTI has won a two-thirds majority by bagging 66 seats in the assembly of 99 members, whereas MMA is the second largest party with 10 seats.
In Balochistan, the newly-formed Balochistan Awami Party (BAP) is on top with 13 seats but failed to get a majority in the House of 51 members. MMA is the second largest party with 9 seats.
Balochistan National Party and independents have won five seats each while PTI received four.
Meanwhile, Khan has been provided VVIP security protocol, meant for the head of government, according to media reports.
Senior police officers said the PTI chief was given the VVIP protocol, Dawn newspaper reported.
Following the decision, security measures were mounted around Khan and his Banigala residence, the report said, a day after he promised to end the VIP culture.
Senior police officers including Deputy Inspector General of Police (DIG) Waqar Ahmed Chohan visited Khan's Banigala home and met with the official in charge of his security as well as PTI leader Naeemul Haq.
The police team assessed the residence and the area around it, including the hills, officers said.
They said there is no standard operating procedure for the 65-year-old prime minister in-waiting, but because Khan is likely to be the next prime minister security measures have been mounted around him, his home and places where he will go.
Concertina wire will also be fixed on the gates and walls of the house, around which the police are being deployed, especially at the front side, in three rings.
An ambulance, with paramedics, and fire-tenders have also been stationed outside his home.
Foot patrols have been ordered around his residence, the road leading to it and the green areas nearby, officers said.
A separate team of police personnel on motorcycles will also patrol the area.
In addition, it has been suggested to establish a security observation post in the hills, at points from which Khan's residence is visible.
Islamabad Traffic Police have also been deployed on roads leading to his home to prevent congestion or blocked roads and ensure that traffic flows smoothly, they said.
There was also a security audit of the Banigala house by senior personnel, they said, to make the area secure enough for a VVIP.
Further steps will be taken on recommendations made in the audit report. Khan has been provided a police escort that includes three vehicles of commandos during his movement, which will cover him from the front and rear.
His security team in-charge was asked to give prior detail of his movement so security can be heightened at his destination and on the way.