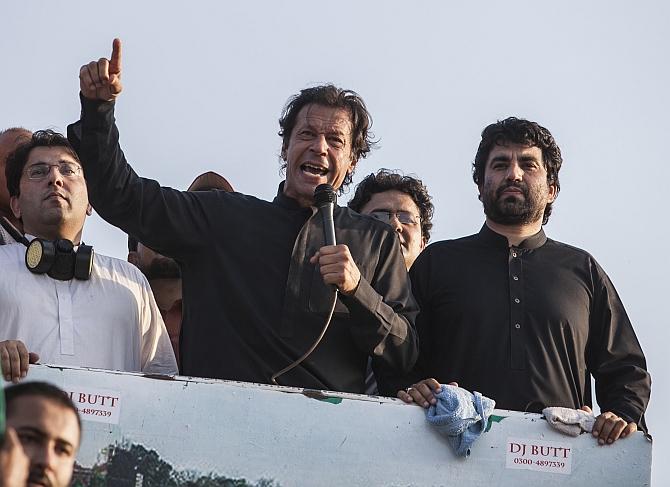 Cricketer-turned-politician Imran Khan and fiery cleric Tahir-ul-Qadri have been booked under the anti-terrorist act for attempting to attack Pakistan's parliament.
The police registered a First Information Report against Pakistan Tehreek-e-Insaf chairman Khan and Pakistan Awami Tehreek chief Qadri on behalf of the government.
On Saturday night, supporters of Khan and Qadri tried to storm Prime Minister Nawaz Sharif's residence by breaking through the police barricade.
The protesters, demanding resignation of Sharif over alleged rigging in last year's election, also entered the lawn of parliament but they were stopped at the main entrance of the building where soldiers were deployed.
According to reports, the FIR was also registered against Awami Muslim League chief Sheikh Rasheed and other senior leaders of PAT and PTI under terrorism laws, for breaching the agreement with Islamabad administration.
The sections of murder, intention of murder, intervention in state affairs and seven other sections were also included in the FIR, reports said.
After the FIR, Khan and Qadri can be arrested any time. Another case is being prepared against the leadership of PAT and PTI for attack on Pakistan Television's building which will be lodged under the sections of damaging state property, looting and robbery, media reported.