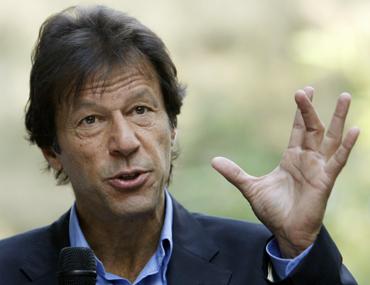 Pakistani police have registered yet another FIR under terrorism charges against Pakistan Tehreek-e-Insaf chief Imran Khan and other party leaders for allegedly inciting people to attack a close aide of Prime Minister Nawaz Sharif's family in Punjab province.
Earlier, a Pakistani court had declared the cricketer-turned-politician an absconder in a case related to an attack on the PTV building in Islamabad.
The Samnabad police of Faisalabad have registered a case against Khan, Shah Mehmood Qureshi, Arif Alvi, Asad Umer, Pakistan Muslim League-Awami chief Sheikh Rashid and 500 other PTI workers under the Anti-Terrorism Act and other sections of the penal code.
Rana Sanaullah, who is said to be the kitchen cabinet member of Punjab chief minister and the premier's brother Shahbaz Sharif, filed the application against the PTI leaders.
Sanaullah is a de facto law minister of Punjab and Faisalabad is his hometown. Not a single police officer is posted in Faisalabad without his approval, his opponents say.
Violent clashes erupted on Monday between workers of ruling PML-N and PTI leaving two dead and several injured in Faisalabad, 140 kilometres from Lahore.
The PTI workers had gathered on the call of their leader to shut down the city to protest against alleged rigging in the 2013 general election.
A group of PML-N activists armed with weapons allegedly opened fire on the PTI workers at the Clock Tower.
The Faisalabad 'shut-down' is part of the 'Plan C' that Khan announced to force the government to constitute a judicial commission comprising Supreme Court judges and officials of Directorate for Inter-Services Intelligence and military intelligence to probe the allegations of mass rigging in the polls which his party lost.
According to Plan C, the PTI will move to Karachi and Lahore before shutting down the whole country on December 18.
Khan has criticised Premier Sharif's government for registering a terror case against him and his party workers.
"In the Nawaz (Sharif) government we have a law of jungle in Pakistan. Our party worker has been killed and several others injured by the firing of ruling party men and irony of the fact is the FIR is registered against us," Khan said.