The NDMA added that the National Capital Region, and Hisar, Kaithal, Jind, Kurukshetra, Karnal in Haryana is likely to be again hit by the unusual weather on Wednesday.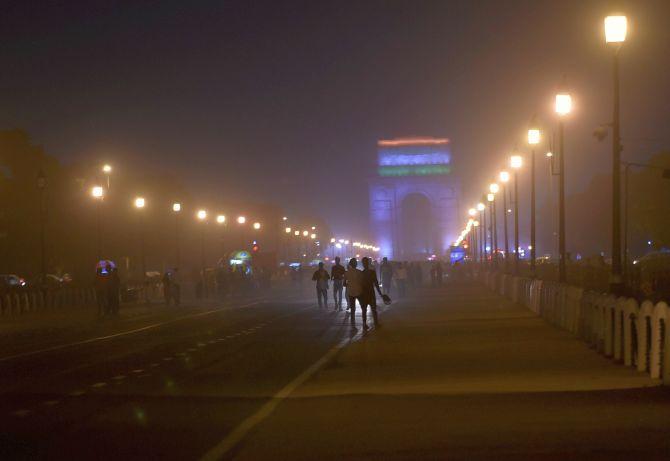 Dust storms, rain and thunder hit parts of northern India today, leaving at least 100 animals dead in Jammu and Kashmir's Rajouri district, uprooting trees and blowing the roofs off homes in Himachal Pradesh's Shimla, but striking with less fury in other places.
Normal life was disrupted in parts of Punjab, Haryana and Delhi with the India Meteorological Department predicting more bad weather on Wednesday.
In Jammu and Kashmir's Rajouri, hailstorm preceded by heavy rains hit Thanamandi area in the evening, prompting authorities to launch a massive rescue operation, a senior official said.
Rajouri District Development Commissioner Shahid Iqbal Choudhary said there was no immediate report of loss of human life but over 110 small animals, mostly sheep and goats, perished.
Choudhary, who is supervising the rescue operation, said 10 families of nomadic Bakerwal community, all residents of Androoth village who were on move to higher reaches, were trapped in the hailstorm and suffered the losses of their livestock.
An immediate amount of Rs 3 lakh was sanctioned for assistance to affected families, he said. "A massive rescue operation was going on," he said, adding hundreds of vehicles were stranded on the road due to accumulation of debris.
A severe storm, accompanied by hail and rain, hit Shimla and other parts of Himachal Pradesh, while the higher reaches of the state experienced snowfall.
The hailstorm triggered traffic jams, snapped power supply, uprooted trees and blew off roofs in parts of Shimla district. Rain water flooded the main roads and entered some buildings in state capital.
In Rajasthan, a dust storm hit places in Jodhpur and Bikaner divisions and isolated areas in Jaipur, Ajmer and Kota regions.
Officials said no loss to life or major damage to property was reported till late evening.
The Met department said many parts of the state could again see a dust storm or thunderstorm in the next 24 hours..
Strong winds hit Ajmer, Jaipur, Sikar and nearby areas in the morning leaving trees uprooted and sign boards damaged.
Moderate to light rains occurred at places in Jodhpur, Bikaner, Jaipur and Ajmer divisions while the weather remained dry in other divisions, according to the Met department.
Parts of Delhi witnessed a dust storm coupled with a drizzle in the evening, with MeT department keeping an eye on its progress.
Light to moderate rains lashed parts of Punjab and Haryana, including Chandigarh, leading to a sharp fall in temperature.
Ambala, Panchkula, Mohali and Patiala were also hit by rain in the two states.
The Met department had warned that thunderstorms and squalls with a wind speed of up to 70 kmph are "very likely" in Uttarakhand and parts of eastern India on Wednesday, signalling that the freak weather phenomenon over northern India has moved eastward.
In an advisory, the department said thunderstorms with gusty winds are "very likely" in parts of Himachal Pradesh, east Rajasthan, Uttar Pradesh, Bihar and Jharkhand.
It said a similar weather pattern is likely to be witnessed in West Bengal, and in six of the seven northeastern states, except Mizoram.
Thunderstorms on May 2-3 claimed 134 lives
Thunderstorms and lightning on May 2-3 killed at least 134 people and injured more than 400 in five states, including the hardest-hit Uttar Pradesh, the home ministry said.
The highest 80 people were killed in Uttar Pradesh and nearly 100 others were injured in the state. A majority of the deaths and injuries were reported from the Agra region, a home ministry spokesperson said, giving the latest figures.
Altogether 35 people were killed and another 209 were injured in Rajasthan. Eleven people were killed in Telangana, six were killed in Uttarakhand and two in Punjab.
Nearly 100 people were also injured in Telangana, Uttarakhand and Punjab.
Following thunderstorms, power supply was cut off in many areas as squall uprooted trees and snapped electricity cables.
At least 20,000 electric poles were uprooted and 2,500 electric transformers were damaged during the two days.
More than 1,800 houses were damaged and 800 cattles were also killed, the spokesperson said.