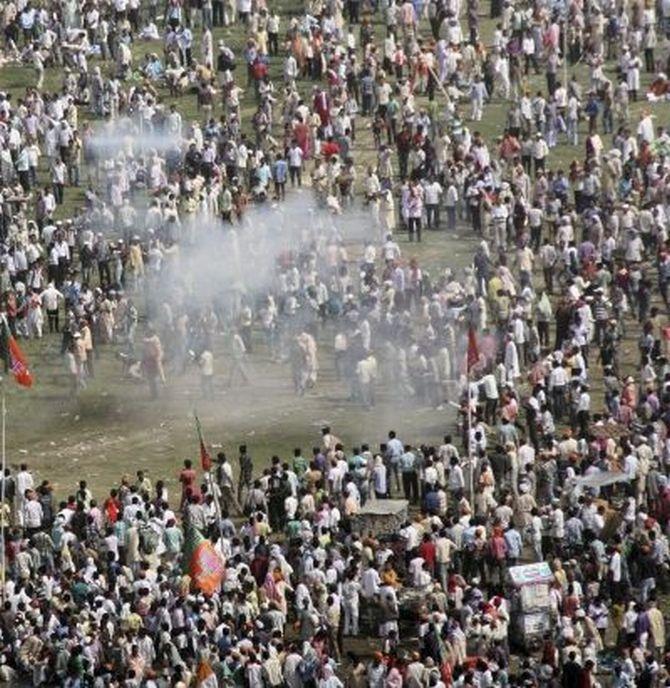 With extortion, robberies, fake currency and arms smuggling, the homegrown terror outfits may have raised Rs 200 crore. Vicky Nanjappa/Rediff.com reports.
India's homegrown terror outfits -- the Students Islamic Movement of India and the Indian Mujahideen -- have raised Rs 200 crore (Rs 2 billion) -- up from Rs 45 crore (Rs 450 million) two years ago -- according to the National Investigation Agency, which probes terror activities along with the Intelligence Bureau.
About half this sum -- Rs 100 crore (Rs 1 billion) -- has come from the circulation of fake currency and the supply of weapons. Terrorists supply arms to thugs who work for politicians especially in Uttar Pradesh, an NIA agent told Rediff.com
"There is great demand for weapons which are sourced from gunsmiths in Bihar. They are often smuggled out of India to Nepal," he added.
SIMI and IM also raised Rs 30 crore (Rs 300 million) from abductions and extortion, investigators say.
Over the past two years, the investigators add, the IM raised nearly Rs 18 crore (Rs 180 million) by extortion from hotel owners in Mumbai and Delhi.
SIMI and IM terrorists are also said to be behind five robberies -- vans carrying cash to load ATMs were robbed on the outskirts of Delhi -- which may have fetched the groups about Rs 8 crore (Rs 80 million).
"IM and SIMI do not spend more than Rs 10 lakh (Rs 1 million) on planning and executing an attack," the NIA agent said.
IM and SIMI leaders maintain tight control over the groups' finances to ensure there is no misappropriation.
Image: Bombs go off at Narendra Modi's rally in Patna last October, a terror attack allegedly mounted by both the Indian Mujahideen and SIMI.