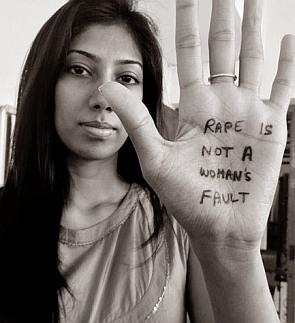 Lakshmi Rebecca looks confident when she stands before the camera with her hand held out.
A message that's etched on her palm is forceful, one that coaxes us to re-think the way the Indian woman is perceived in public.
It reads -- #ifeelsafewhen rape is not a woman's fault
What started off as a casual office discussion on the Meghalaya shootout -- the incident where a woman was shot in the head at point-blank range in front of her children for resisting rape -- is today an online rage.
Since June, when the campaign kicked off on social networking wesbites, over 40,000-odd people have stood up and raised their voice for women's safety.
Says Rebecca, "The campaign was a result of brainstorming on an issue that is very pertinent to Indian society today. It all started with a casual office discussion on the Meghalaya shootout and similar incidents."
"Add to these, our awareness of the fact that an act of violence against women takes place every 22 minutes in India. This made us think -- think about the solutions, the answers and the lack of them. And it made us think about safety in a very personal way, just as every incident of rape reported in the news does."
"And here we were, men and women, talking about what safety meant to us. We felt a speak-up campaign that would get people to talk about safety in a positive and engaging light would be helpful, thought-provoking and inspiring."
The 33-year-old also hosts India's first award-winning online talk show, Chai With Lakshmi.
To motor their social campaign, Rebecca and her colleagues asked Twitter and Facebook junta to complete the sentence "I feel safe when..." and send them a selfie with their message.
And the response has been overwhelming.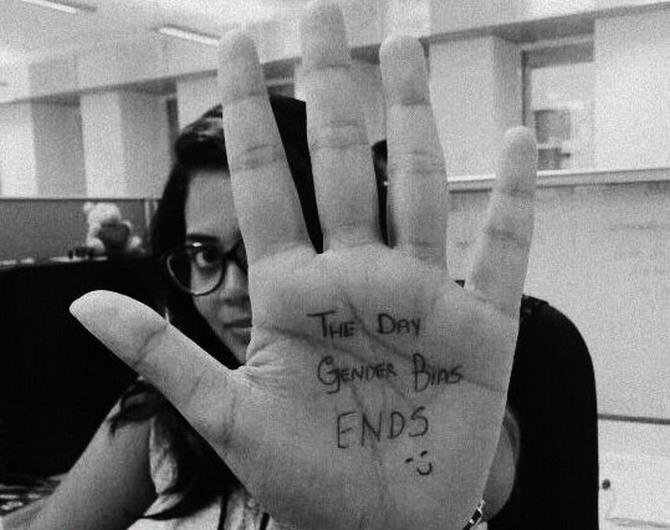 "In the span of three months, we received over 260 pictures. We realised through this campaign, is that people were not just sending us their selfies; they were voicing their sentiments on how they view and want safety for India's women and themselves."
Want to join the campaign? Do so in three steps:
* Complete the sentence #ifeelsafewhen on your palm
* Take a selfie with your face visible
* Share the selfie on Facebook or Twitter
Check out some of them below: