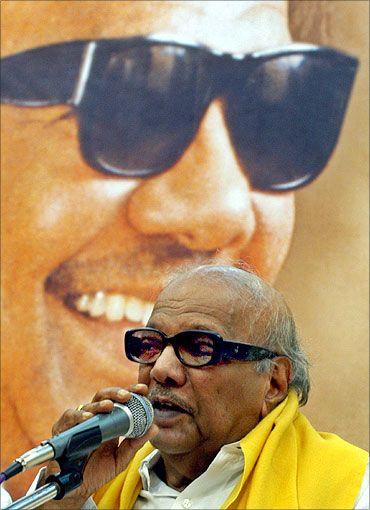 "If you fix a date, I will retire from politics," Tamil Nadu Chief Minister and Dravida Munnetra Kazhagam patriarch M Karunanidhi said on Monday.
Replying to repeated and specific questions from media persons on his earlier hints of retirement, Karunanidhi said he has never used the word retire.
"If journalists in Coimbatore want me to quit, you fix a date and I will do so," he said at a press conference in Coimbatore at the end of the five day world classical Tamil conference, his pet project.
Asked about the possibility of early assembly polls in view of the "success" of the Tamil conference, Karunanidhi said "are elections more important when the issue of Tamil language is being taken up?"
Karunanidhi had dropped hints about staying away from active politics, fuelling speculation that he might retire after the World Classical Tamil Conference to hand over the mantle to his son and Deputy Chief Minister M K Stalin.
However, amid reports of a succession war between Stalin and his elder brother et union minister M K Alagiri, Karunanidhi had subsequently refrained from making any reference to the issue.

Image: Tamil Nadu Chief Minister M Karunanidhi
Photograph: Babu/Reuters