Dr Rahul Khurana, a surgeon at the Wilmer Eye Institute at the Johns Hopkins University School of Medicine, and Captain Marisha Malik, of Potomac, Maryland, were among the Ten Outstanding Young Americans selected nationally by the United States Junior Chamber (Jaycees).
The TOYA program, established in 1938, is one of the oldest recognition events in America. The Jaycees recognise 10 young men and women who best exemplify the finest attributes of America's youthful achievers.
Earlier award winners include US Presidents John F Kennedy, Richard M Nixon, Gerald Ford, and Bill Clinton, and US Vice-Presidents Nelson Rockefeller, Dan Quayle, Al Gore and Richard Cheney. Also honoured in the past were billionaire Howard Hughes and US Senator Ted Kennedy, Elvis Presley and actors Orson Welles, Christopher Reeve and Shannon Reed.
Captain Malik, 27, is currently the officer in charge of the 18th Aircraft Maintenance Unit at Eielson Air Force Base, Alaska. She leads teams delivering combat-ready aircraft, equipment and people.
She directs and implements maintenance plans supporting more than 3,000 sorties and 5,000 flying hours annually, and is responsible for the morale, training, discipline, and management of 230 personnel in nine Air Force specialties.
The captain was born of an Indian father and a Burmese mother. She was a student at The Holton-Arms School in Bethesda and graduated in 1998. She obtained her bachelor's degree in criminal justice in 2002 from the University of Arizona and joined the US Air Force as a second lieutenant.
In 2004, she was deployed to the 379th Expeditionary Aircraft Maintenance Squadron in Qatar, where she served as the Assistant OIC of the 335th Expeditionary AMU, producing more than 1,148 combat sorties and delivering 16,000 pounds of munitions. In 2005 she moved to Eielson Air Force Base where she led 87 military and civilian personnel performing maintenance on 43 F-16 and A-10 aircraft. In 2006, she once again deployed, this time to Afghanistan, where she served as the maintenance flight commander for the 451st Air Expeditionary Group.
She has been recognised for significant military and personal achievements. She has received the Air Force Commendation Medal twice, for meritorious service at the Seymour Johnson Air Force Base and for outstanding achievement while deployed in Afghanistan, the Air Force Achievement Medal for outstanding achievement while deployed to Qatar; the Air Force Outstanding Unit Award twice; and the National Defense Medal, Global War on Terrorism Expeditionary Medal, and Global War on Terrorism Service Medal.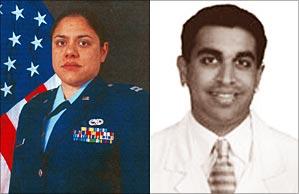 Dr Khurana, 31, has been actively involved in the community, tutoring underprivileged children, spending time with Alzheimer's patients and participating in humanitarian missions abroad to restore vision to those too poor to obtain care.
He has numerous scientific contributions to his credit;  as a medical student providing new insights into the development of glaucoma; as an intern discovering a fatal complication of a popular weight-reducing surgery and devising guidelines to prevent it; and authoring more than 27 papers that have revealed new discoveries regarding various eye diseases and potential medical and surgical treatments.
He received the American Medical Association's Foundation Leadership Award in 2007, which recognized him as one of the top 51 emerging national leaders expected to make a strong impact on the future of medicine; was named a Heed Ophthalmic Foundation Fellow in 2006, an award given to the most promising leaders in ophthalmology; and was named the Pan-American Association of Ophthalmology Paul Kayser International Travel Scholar in 2007, an award that recognises exceptional ophthalmologists from North America who travel and work with ophthalmologists in South America to expose them to excellent clinical and research training.

Currently, he volunteers with Surgical Eye Expeditions International, a non-profit humanitarian organization that provides medical, surgical, and educational services with the primary objective of restoring sight to disadvantaged blind individuals worldwide.