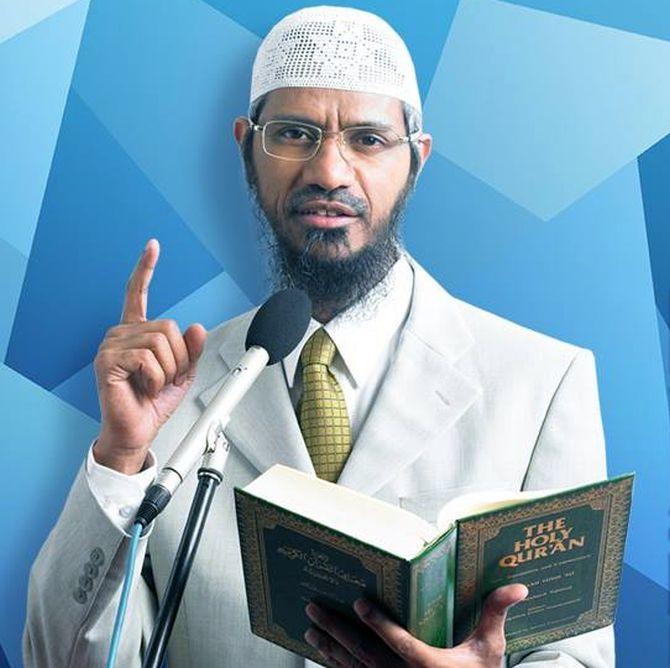 Controversial Islamic preacher Zakir Naik, who is wanted in terror-related cases in India, on Wednesday claimed that he has never promoted terror and his aim has always been to promote communal peace and harmony.
In a statement, Naik, who has taken shelter in Malaysia to evade arrest in India, claimed that the media had "resorted to doctored video clips, out-of-context quotations and a host of dishonest schemes to accuse me of terrorism, hate speech and even money-laundering."
He also lauded Malaysian Prime Minister Mahathir Mohamad for allowing him to stay in that country.
Mahathir Mohamad, whom Naik met recently in Malaysia, has rejected India's request for extradition of the Mumbai- born preacher, arguing that he had caused no harm to the host country.
"I have never promoted terror, in the name of Islaam or otherwise," said Naik, who is wanted in cases related to terrorism, hate speech and money laundering in India.
Insisting that "any statement ascribed to me that is against humanity is a fabricated statement," he said, adding "My aim has always been to foster communal peace and harmony -- the exact opposite of the accusations hurled at me."
In the statement issued through his spokesperson, Naiik went on to add that "time and again, I have reiterated that a Muslim cannot be a good Muslim unless he is a good human being."
Naik, who used to preach on a religious TV channel now banned in India, said that "not a single lecture out of the thousands that I have delivered, has every received objections from non-Muslims in India until September 2012, when a group of religious fanatics sought to tarnish my image."
He said that while he hoped that "justice and peace (would) return to my homeland, India", he was "indebted to Malaysia".
Naik is facing charges, including for hate speech and money laundering, in India and has been living abroad since 2016 to evade arrest.
He is facing a probe by the National Investigation Agency after his sermons on his 'Peace TV' were cited as a reason by Bangladesh for an attack in Dhaka in 2016, which left 22 people dead.
The NIA had first registered a case against Naik under anti-terror laws in 2016 for allegedly promoting enmity between different religious groups.
The NIA and Mumbai Police, subsequently, had also carried out searches at 10 places in Mumbai including residential premises of some of the office bearers of the foundation run by Naik.
The foundation was earlier put on restricted list by the home ministry for receiving funds from abroad.
The Enforcement Directorate is looking into the charges of alleged laundering of illegal funds in the case and the subsequent proceeds of crime thus generated.
The external affairs ministry has already revoked Naik's passport.