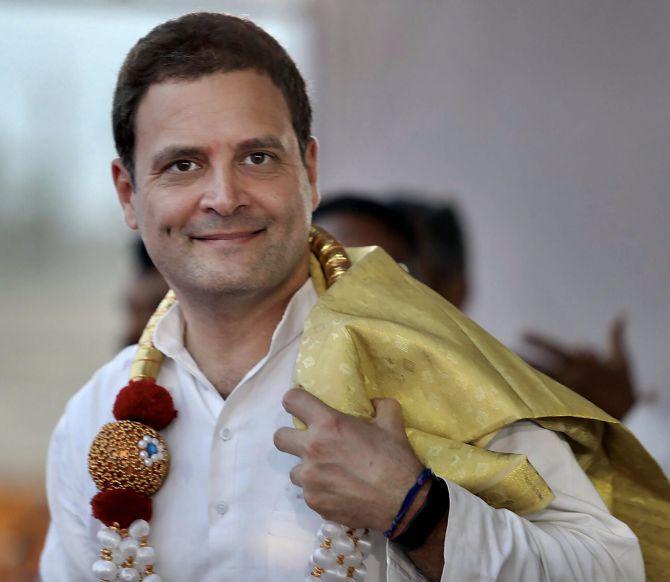 IMAGE: Congress president Rahul Gandhi gestures during a public meeting in Gulbarga on Monday. Photograph: PTI Photo

Congress president Rahul Gandhi on Monday accused the Bharatiya Janata Party of creating friction between communities and 'igniting' fire, as he ramped up his attack on Prime Minister Narendra Modi in his campaign in poll-bound Karnataka.
"Wherever there is a BJP government like the ones in Haryana, Uttar Pradesh and Rajasthan, violence prevails," he alleged at a public rally in Jewargi on the third day of his first leg of campaign in north Karnataka.
He said, "At some places, they kill Dalits, minorities and tribals. They pit one section of society against another and ignite fire. In Haryana they pitted Jat against non-Jat. And they come here and talk about violence."
"Peace prevails here Modiji. Go and see what is happening in UP, Haryana, Maharashtra and Rajasthan. There is violence which is being spread. So don't talk about violence and corruption when you visit Karnataka. People of Karnataka are intelligent and they know everything," he said.
Gandhi asserted that Congress believed in taking everyone together and moving forward.
The Congress president, who addressed public and roadside meetings in Raichur and Kalaburagi districts, continued his attack on Modi, saying he should speak about allegations of corruption against BJP president Amit Shah's son.
Gandhi,on a four-day 'Janashirvad Yatra', said Modi should look 'left and right' before talking of corruption.
"If you want to talk about corruption, talk a bit about Amit Shah son's corruption. How he made Rs 80 crore out of Rs 50,000 in three months. You should also be telling this to the country," he said.
Amit Shah has rejected allegations of corruption against his son Jay Shah, who has filed a criminal defamation suit against the news portal which claimed his business fortunes had zoomed after BJP came to power in 2014.
Addressing people who had gathered to welcome him before he continued his campaign in the state's Hyderabad-Karnataka region, Gandhi also lashed out at BJP leaders in the state.
IMAGE: Congress president Rahul Gandhi, along with Karnataka Chief Minister Siddaramaih, former minister Veerappa Moily, party MP Mallikarjun Kharge and other leaders eating 'Mirchi Bajji', a local snack, at Kalamala, 16 km from Raichur on Monday. Photograph: Courtesy @INCKarnataka/Twitter
"Modiji you talk of corruption. Modiji, if you have some time after talking of the past, look at your left and right sides...."
"On one side is (B S) Yeddyurappa who has been to jail. On the other side, as many as four (former) ministers who went to jail... and behind, 11 leaders who had to resign on charges of corruption," he said.
Gandhi said Modi had 'failed' to create jobs and address farmer distress.
"Modiji, people of this country gave you work, farmers had given you work, youth had told you that our competition is with China. China provides job to 50,000 youths in 24 hours. Modiji has failed," he said.
Travelling in a customised bus along with other leaders from the state, Gandhi was greeted by party workers and people who lined up on both sides of the road at various places.
Speaking to reporters at Shahpur in Yadgir district, Gandhi, who is facing the charge of practising 'soft Hindutva', defended his visits to temples and religious places, asserting that he would continue it.
"I like going to temples, wherever I get religious place I go there. I feel good and feel happy, and I will continue (to go)," he said.
Gandhi was responding to BJP state President B S Yeddyurappa's 'Election Hindu' jibe at him.
'I heartily welcome #ElectionHindu @OfficeOfRG to Ballari. The #Congress President will fulfill our dream of a #CongressMuktKarnataka,' Yeddyurappa had said in a tweet, ahead of Gandhi's visit to the state from February 10.
Gandhi's temple run in his election itinerary,which began in the run-up to the Gujarat assembly polls, has invited flak from BJP, which has dubbed it as an election exercise.
Other critics have called it 'soft Hindutva'.
The Hyderabad-Karnataka region comprises districts of Bidar, Yadgir, Raichur, Koppal, Ballari and Kalaburagi which were part of the Nizam-ruled Hyderabad state till 1948.
Gandhi will wind up his tour on Tuesday, interacting with professionals and business community and a visit to 'Anubhava Mantapa' at Basavakalyan in Bidar,akin to Parliament, started by 12th century social reformer Basavanna.
During his current tour to north Karnataka, Gandhi visited Goddess Huligamma temple, a famous shrine in the region, and Gavi Siddheshwara Mutt, a mutt of the majority Lingayat community.
He also visited a Dargah in Raichur on Monday.
In his brief interaction with reporters, Gandhi asked Prime Minister Narendra Modi and Yeddyurappa to inform people about the reasons why ministers during BJP rule in the state had to go to jail.
"When Yeddyurappa and Modiji speak about corruption, they should inform people that during BJP rule four ministers had gone to jail, Yeddyurappa himself had gone to jail and 11 ministers had to resign. Let them explain about it," he said.
Gandhi again questioned the prime minister about the Rafale fighter jet deal, reiterating his charge that the contract was taken away from Hindustan Aeronautics Limited and given to Modi's 'friend'.
"Why did you take away contract from HAL? Why did you take away jobs from youth of Karnataka? Why did you do this to give it to your friend? What was the logic behind it?," he asked.
Questioning whether the requisite permissions were taken from the cabinet committee on security, Gandhi asked what the aircraft's price was.
"Earlier Defence minister said she will share the price details to the country. After three to four months she is saying the matter is a state secret. Was it not state secret earlier?," he asked.
Attacking the Modi government for demonetisation and GST terming it as 'Gabbar Singh Tax', the congress leader said the measures have 'shut' all businesses in the country.
BJP slams Rahul for visiting temple 'after eating chicken'
Meanwhile, Yeddyurappa hit out at the Congress president for reportedly visiting a temple after eating 'Javari chicken'.
'At one side there is 10 per cent CM Siddaramaiah who took darshan of Dharmasthala Manjunatha after eating fish, on the other side there is Election Hindu @OfficeOfRG (Rahul Gandhi) who took darshan of Narasimha swamy after eating Javari chicken,' Yeddyurappa said in a tweet in Kannada.
'Why is Congress repeatedly hurting Hindu sentiments? Looking at every one equally is Samajawad (socialism), your's is majawad (enjoyment)," Yeddyurappa said in the tweet with clippings of reports about Gandhi visiting the temple after 'eating' chicken.
Last year, Chief Minister Siddaramaiah was involved in a controversy for eating fish at lunch before going to the Lord Manjunatha Swamy temple.
It was seen as disrespect to the main deity of the temple, with the issue creating a buzz in the social media.
However, Siddaramaiah had dismissed the criticism. Gandhi, who is on a temple trail during his election campaign in northern Karnataka districts, had on Sunday stopped at Kanakagiri in Koppal district and visited the Kanakachala Laxmi-Narasimha temple.
The temple, built by a local chieftain, has a history of 500 years of existence.