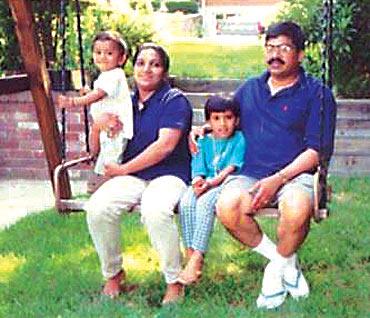 It has been ten years since her death in the 9/11 terror strike, but the memories are still vivid for Valsa Raju's family. George Joseph reports
Valsa Raju would have preferred to drown than die in a fire, remembers her sister. But death showed no kindness when it came to her on September 11, 2001, as she worked at Carr Futures, an investment company, on the 92nd floor of the North Tower of the World Trade Centre.
After the first plane hit the WTC, the family was not sure which tower Valsa worked in. They waited till both towers fell. Her daughter Soniya was in school and she told the teacher that her mother worked at the tower with the antenna. It was the North Tower.
Recalls Soniya, "I went to school that morning like any other child, not realising what was ahead of me. Hours into that school day chidlren from class were rapidly being picked up by their parents, and that triggered the idea that something was wrong. Soon enough, my principal walked in explaining that there was an attack on the World Trade Centre.
"Those first couple of days I believed that my mom would magically come home, that she would be okay and alive. I was wrong. It was hard to believe that the woman who comforted me each night, slept with me, cooked for me, and did everything she possibly could, would no longer be there when I got home from school.
"It was hard being the only girl in the house, with no one to talk to about my emotions and no one to save me from my misery. I felt as though the only solution to any problem was for God to give me my mom back and nothing was more important.
"Losing my mother when I was 8, I was forced to grow up sooner, mature and live without her care and love. I vividly remember my mother, except that I cannot recall her voice".
It took almost a year to identify Valsa's body parts. After a funeral service, the body was interned at the cemetery in Valhalla, Westchester, New York. Soon after the death, her husband Raju Thankachen, a certified public accountant, moved from Westchester to Sugarland, Texas, with the children, Soniya and Sanjay, who was five when Valsa died.
Sanjay says, "I only have vague memories of my mother, but I miss her very much (Soniya says he misses their mother even more than her)".
Sanjay has moved back to Westchester and now lives with Annamma Thomas, his mother's older sister and her family.
He has joined the New Rochelle High School.
Annamma Thomas says, "We were closer than other siblings because we lived nearby. I was the first in the family to come to the US. Valsa came in the 1980s with a commerce degree and continued her studies here. After a few jobs, she landed up at Carr Futures and was happy with the work there.
"She would tell us that she preferred to jump into the sea than die in a fire. The week before the attack, there was a security drill in her office and they were joking about what each would do in case the tower caught fire".
Soniya remains in Texas, studying at the University of Houston, with plans to enroll in dental college. Like her brother she prefers New York.
"In New York, there are more people. Most of our relatives are also there. Moreover, it is very hot in Texas," she says.
Soniya and Sanjay have found ways to move on, but their father Raju says he felt he was left alone after Valsa's death. He cannot believe that 10 years have passed.
He feels no animosity for Muslims. Several of his neighbours back in Kerala were Muslims and he cherishes his warm friendship with them.
Raju says, "At the same time, I don't agree with killing people or turning into an extremist. These happen not because of their religion".
Valsa's family found some peace and the means to cope better when the man responsible for her death, Osama bin Laden, was killed earlier this year.
Soniya says, "Peace is the only word that can explain all the different emotions I felt when finding out that the man who killed so many innocent people was finally dead. Bin Laden's actions deeply affected my family, and the lives of many others who lost loved ones on September 11. So many children were forced to grow up without their parents, in broken homes, deprived of so much love. As cruel as his actions were, I can honestly say that I forgive him. He's in God's hands to punish".
Image: A file photograph of Valsa and Raju with their children Soniya and Sanjay