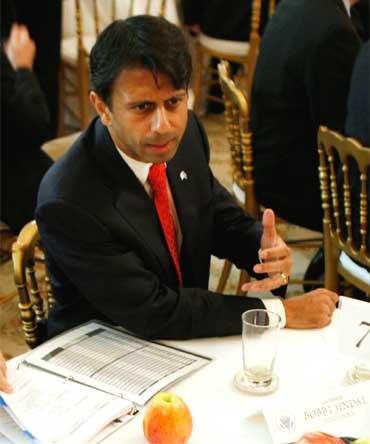 While he has offered his support to the candidacy of Rick Perry, Louisiana's Indian American Governor Bobby Jindal has no plans to join the Republican as his running mate in the 2012 presidential election.
In fact, Jindal, who is seeking a re-election as Governor believes he has the best job in the world. "I don't want a job from Governor Perry.... I want Governor Perry to create millions of jobs for my fellow Americans," Jindal said on FOX News channel's Happening Now.
Jindal said his support for Perry has nothing to do with a potential White House position -- Vice President or otherwise -- for himself.
Of his Republican colleague, Jindal said Perry simply has the knowledge and    understanding it will take to successfully attack unemployment in the United States, something while President Barack Obama does not have.
"For me, it's pretty simple; this President does not understand what it takes to put America back to work". He went on to say that the Texas governor understands
that it's the private sector that needs the bulk of job growth, not the government, and that America shouldn't be borrowing its way into prosperity.
"President Obama is clearly in over his head," he said. Asked more than once, if he would accept a position in a Perry administration, or another Republican administration, if Obama were to be defeated in 2012, Jindal brushed off the possibility, saying he's happy where he is, creating jobs for the people of Louisiana.
"I've got the best job in the world," he said. Jindal endorsed Perry's bid for the Republican nomination on Monday before a debate in Tampa, but said on Tuesday that any of the candidates he saw in the debate "would be an improvement over our current President".
On Wednesday Jindal said his endorsement of Perry has been in the works for weeks.
"We'd been talking for a number of weeks about the possibility of my endorsing him... We finally decided that this was the right time," Jindal said. Jindal said Texas' relationship with Louisiana during Perry's governorship was a factor in his pick.
"He's been a great neighbour. He's provided significant help to our state... During the oil spill, during other challenges, we've worked very closely together," Jindal said. Jindal told the American press that he talked "to multiple candidates" before settling on Perry.
"At the end of the day, I thought Rick Perry is the best candidate to not only be the party's nominee, but to actually lead our country forward," the Louisiana governor said.
Political experts often speculate about Jindal's potential to become a presidential candidate in the future. In 2008, some speculated that Jindal might become the vice presidential running mate for John McCain.
Image: Louisiana Governor Bobby Jindal