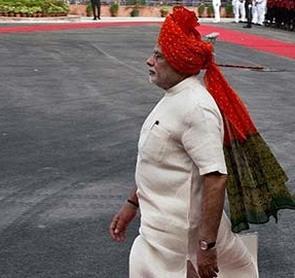 Stressing on "dignity of women", Prime Minister Narendra Modi on Friday urged parliamentarians and the corporate sector to help build separate toilets for girls in schools across the country by next year.
"I want to start one work from today. There should be a toilet in all the schools of our country. A separate toilet for girls... it is only then our girls will not have to quit schools.

"I urge all MPs using MPLADS funds, spend your money in building toilets in schools. I also appeal to the corporate sector of our country. Under the Corporate Social Responsibility, whatever you are spending, give priority to building toilets in schools," Modi said in his Independence Day address.
He also set a year's target to achieve this goal.

"When we again meet here next year, we should be able to stand here with confidence that there is no school in the country where there is no separate toilet for girls and boys," he said.
Modi also pitched for making provisions for building toilets wherein women should not defecate in open.
"We are in the 21st century. Have we ever been pained by the fact that even today our mothers and sisters have to defecate in open. Dignity of women... isn't this is responsibility of everyone?

"Women and sister wait for dusk. Until then they cannot relieve themselves. How much pain their body will be going through? How many diseases they must be prone to? Can't we make provisions for a toilet for the dignity of our mothers and sisters," he said.

The Prime Minister said he is not hesitant about speaking about toilets in his speech from the Red Fort as the issue is related to the "respect" of poor.
"Someone will think speaking about cleanliness and toilet from the Red Fort... what kind of Prime Minister is this? But I firmly believe in this. I come from a poor family and poor family should get respect... this should start from here.
"On August 15, people will make tall claims. There is an importance to tall claims, even there is a significance of announcements, but then announcements lead to expectations and when expectations are not fulfilled then sadness sets in society," he said.

Noting that girls are equal partners in the development of the nation, the Prime Minister said such cases are a reflection of the rot that has crept in society in the 21st century.

"Today sex ratio is 940 girls to 1000 boys. Who is creating this imbalance? Not God. I want to appeal to the doctors not to kill the unborn girl child for money," he said.

The Prime Minister said he has often seen families prefer boys in the hope that they will look after them when they are old.

"But I have also seen families, where the single girl devotes her life to serve parents, staying away from marriage. I appeal to mothers and daughters, don't kill girls in the hope of a boy," he said.

In this regard, he hailed the performance of girls in the recently concluded Commonwealth Games, saying out of 64 medallists, 29 were girls.