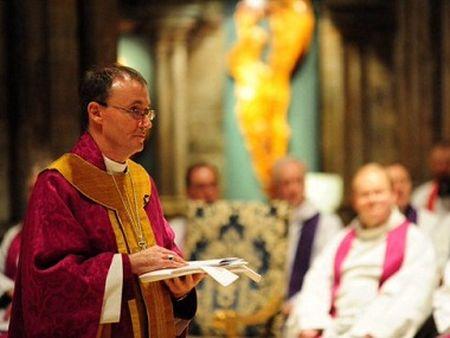 A Bishop on Saturday became the first Church of England priest to openly declare that he is gay and in a long-term relationship with a man.
Right Reverend Nicholas Chamberlain, the Bishop of Grantham, said he was moved to speak out about his sexuality after a British newspaper threatened to expose his personal relationship.
"It was not my decision to make a big thing about coming out," he told 'The Guardian'.
"People know I'm gay, but it's not the first thing I'd say to anyone. Sexuality is part of who I am, but it's my ministry that I want to focus on."
Bishop Chamberlain said he obeys Church of England guidelines, which say gay clergy must remain celibate.
Under Church of England guidelines gay bishops must remain celibate and are not permitted to marry.
The church says that it supports clergy in same-sex civil partnerships, but marriage is a union of a man and a woman.
The Bishop said he had been with his partner for many years and that the relationship "is faithful and loving".
"We are like-minded, we enjoy each other's company and we share each other's life," he added.
"I really hope I'll be able to help us move on beyond matters of sexuality. It's not to say this isn't an important matter -- I'm not brushing it aside," he said.
The Archbishop of Canterbury, Justin Welby, confirmed he was aware of the bishop's sexuality and that he was in a "long and committed relationship".
The Archbishop added: "His appointment as Bishop of Grantham was made on the basis of his skills and calling to serve the Church in the Diocese of Lincoln.
"He lives within the Bishops' guidelines and his sexuality is completely irrelevant to his office."
A Church of England spokesperson said: "Nicholas has not misled anyone and has been open and truthful if asked. The matter is not secret, although it is private as is the case with all partnerships/relationships."
Over the years, the Church of England has been trying to come to terms with controversy over its approach to gay clergy as a number of priests have defied the guidelines to marry same-sex partners since 2014.
IMAGE: Bishop of Grantham Nicholas Chamberlain. Photograph: Diocese of Lincoln/Twitter