'I stand here as a helpless father.'
A retired soldier awaits the release of his son languishing in a Kenyan prison.
Rediff.com's Shobha Warrier reports.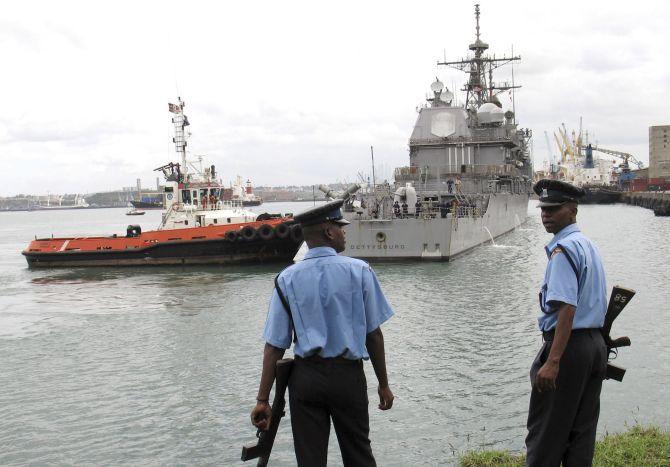 After serving the Indian Army for 27 years in various parts of the country, Prabhakaran Nair, 56, took voluntary retirement in 2007 to lead a quiet life as a farmer in his hometown Pathanapuram in Kerala's Kollam district.
But it was not to be. His elder son, who was training to be a sailor, has been in a Kenyan prison for the last two years.
Heartbroken, his 47-year-old wife has become mentally unstable and is currently under psychiatric treatment.
Nair has spent his retired life writing letters to various ministries, meeting politicians and knocking at doors to get his son back. In between, he visits hospitals with his sick wife.
As he began talking about his son Praveen, Nair wept.
When Praveen could not get a job after learning drilling, somebody suggested he should learn sailing. That was how he joined the Alpha Marine Services in New Delhi to do a six-month course.
After the course, Praveen and Vikas Balwan Singh from Haryana were sent to the Iranian vessel, MV Amin Darya based in Dubai to do an 11-month internship in November 2013.
Both young men had completed eight months as interns when the Iranian ship was sold to a Pakistani agency. The MV Amin Darya is said to be now both owned and operated by Ebrahim AM of Dubai. The shipping company Ebrahim Shipping operates out of the UAE and Pakistan.
"All the crew members except my son and Vikas quit. Actually, they were not allowed to quit as their contract with the agency was not over. They said these two could quit after completing their 11-month contract," Nair said. "So, in a way they were forced to be with the ship."
"Praveen was very upset when he came to know that the vessel was sold to a Pakistani agency. He was crying. He didn't want to continue working for the ship especially after all the other crew members left. Others consoled my son and Vikas, saying it was only a matter of three months."
Sometime in July 2014, the MV Amin Darya was taken into custody by Kenyan security agencies at Mombasa port on the suspicion of drug trafficking. Along with Praveen and Vikas, Kenyan security took into custody six Pakistani crew members and the ship's captain.
It was reported then that the Kenyan police brought the vessel to the Mtongwe military base within Mombasa port though the crew claimed the ship was carrying 300 tonnes of cement.
After unloading the cargo of cement, the ship was searched using sniffer dogs and the police found 8 kg of heroin worth $10 million (about Rs 67 crore/Rs 670 million).
The Kenyan police said the vessel was one of two ships that had sailed from Pakistan, and then called in at a port in Somalia en route for Zanzibar. It is said that drugs are transported from Pakistan and Iran to East Africa, and from there to Europe.
On July 30, 2014, Nair found out about his son's arrest.
"I confirmed the news by reading on the internet. From that moment onwards, I have been contacting various people in India and Kenya to get the truth about my son," he said.
With the help of International Workers Federation inspectors in India and Kenya, he managed to talk to Praveen after the arrest.
"My son could not even speak to me properly. Amidst sobs, he told me that he had been arrested. Both Vikas and my son were trapped in the ship. They had no idea what they were transporting. They are innocent students," Nair said.
"When the hearing started," Nair said, "there (in Kenya), the ITF inspector told me that if I wanted a lawyer for my son, I had to give Rs 5 lakh (Rs 500,000). Where do I have that much money?"
"I am only an ex-serviceman, a poor man," the retired Assam Rifles soldier said. "I can only knock at doors. I have sent memoranda to the ministries and Rajya Sabha, but nobody has done anything for these two innocent Indian students."
"I have sent letters to (External Affairs Minister) Sushma Swaraj and (Minister of State for External Affairs) General V K Singh sir. A lawyer in Kenya told me that if the Indian government informed the Kenyan authorities that they were just students, they would be let free, but our government had not done it so far," Nair added.
Once in a while, he gets a chance to talk to his son when someone gives Praveen a phone in the prison.
"He doesn't tell me anything about how he is treated there. But then what can you expect in prison? I have been doing all I can in the last two years, but nobody has helped me get my son back," Nair said.
"I have been travelling to Trivandrum (Thiruvananthapuram) and Ernakulam every month. There is not a single politician whom I have not met. There is not a single door which I have not knocked. But I stand here as a helpless father whose son is in prison in a foreign land. I didn't go to Delhi. I do not know anyone there. Nobody will let me meet anyone in the government there," Nair said.
After two years, the unfortunate story of Praveen and Vikas came into the limelight when Kerala MLA K B Ganesh Kumar raised the issue in the state assembly and brought it to Chief Minister Pinarayi Vijayan's notice. The CM told the assembly that he would take up the case with the prime minister and external affairs minister.
"My wife has not spoken to anyone from the day she heard the news. I am sure she will start talking the moment she sees her son," Nair, weeping, said. "I hope somebody helps us get our innocent son back. I fought for my country for 27 years. Now I am fighting to get my son back."
Image published only for representational purposes. Photograph: Reuters