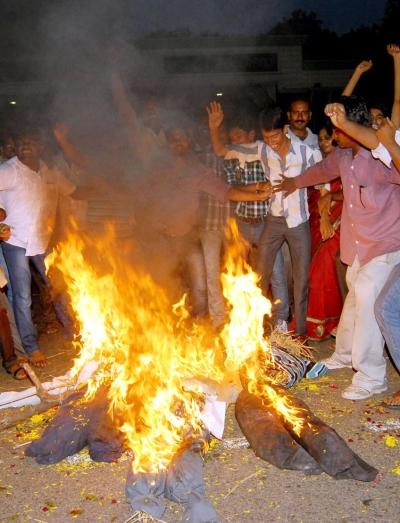 The deteriorating law and order situation in Hyderabad has prompted a worried Union government to consider temporarily bringing the city under its control.
But pro-Telangana activists are up in arms against such a move.
K T Rama Rao, leader of the Telangana Rashtra Samiti and son of party chief K Chandrasekara Rao, told Rediff.com that while they don't mind sharing a capital with Seemandhra, they were against Hyderabad coming under the aegis of the Union government.
On the Cabinet note on Telangana finally being passed, Rao pointed out that it has taken the government 64 days to take this step after the announcement about the creation of a separate state was made.
"That is an inordinate delay; we wish the process had been expedited. What the government does not understand is that people need clarity. Delaying the process only causes unrest. The government of India desperately needs to move forward and ensure that the process is completed as soon as possible," he said.
Rao added, "The government has announced the setting up of a Group of Ministers to study the issues leading up to the bifurcation. This process needs to speed up and the GoM needs to submit a report soon so there is no further delay".
On the violent protests in Telangana against the formation of a separate state, Rao said, "We need to co-exist as neighbours. None of us want to rupture our relationship. There will be no trouble caused by any of us. We hope the Union government takes up the matter soon and passes it in Parliament".
On the possibility of forging an alliance with the Congress to form the first-ever Telangana government, he said, "Now, we have to ensure that the bill is passed. Once this is done, we will sit down and plan on how to deal with the situation. I have always said that we are open to the possibility of a working association with the Congress. If it is in the interest of Telangana, then we are open to a working relationship, but that would only be after the bill is passed in Parliament".
The TRS is adamant on its demands about the new state -- the party wants Telangana to have ten districts and Hyderabad as its capital.
"The Telangana government should have full control over Hyderabad. We have heard the Union government may take over control of the law and order situation in Hyderabad. We will oppose such a move tooth and nail. I don't think the people of Seemandhra should have any fear. Haven't we, the people of Telangana, lived for 52 years with chief ministers from the Seemandhra region? We want peaceful co-existence," Rao said.
Image: A protest against the bifurcation of Andhra Pradesh in Hyderabad ' Photograph: Snapsindia