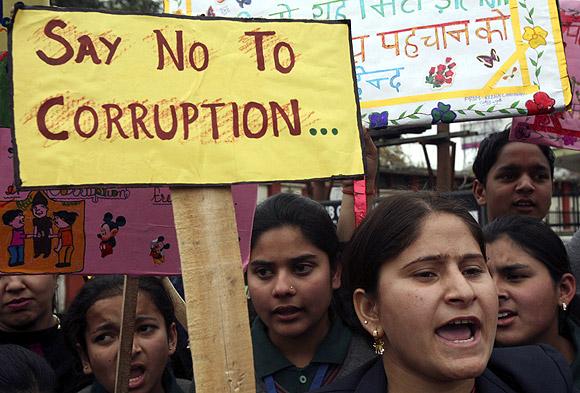 There has been a quantum jump in the number of complaints of corruption received by the Central Vigilance Commission last year as against those in 2011.
The chief vigilance officer, who acts as distant arm of the CVC, has received a highest of 10,337 complaints of alleged corruption against its employees and in projects being executed by the largest public sector employer as compared to other departments, says an annual report for 2012 of the transparency watchdog.
"The commission received more than 37,000 complaints during 2012 as compared to 17,407 complaints in 2011 which is 113 per cent more than that of previous year," it said.
Out of the total of 37,208 complaints received by the CVC, 33,308 were disposed of during 2012 and 3,900 complaints were pending at the end of the year, said the report tabled in the Parliament recently. "In majority of complaints, the allegations were found to be either vague allegations or containing administrative issues. The commission also received a considerable number of complaints against public servants working in the state governments etc. who do not come under the jurisdiction of the commission," it said.
The CVC has received 10,142 complaints in 2008, 14,206 in 2009 and 16,260 in 2010. Of these, 10,188 were disposed of in 2008, 13, 919 in 2009 and 16, 211 in 2010 respectively, the report said. The commission also complained lack of staff despite "manifold increase" in volume of its work.
"Despite the manifold increase in the volume of work being handled by the Commission, there has been no increase in the staff strength. Complaints received in the commission are processed electronically through Information Technology enabled core processes to ensure speed and transparency," it said.
Out of the sanctioned strength of 296, the CVC has 244 officials in position.
According to the report, the chief vigilance officers of various government organisations have received as many as 48,553 complaints of alleged corruption between January and December 2012. Of these, a highest of 10,337 were received by the Railways, 7,336 by banks, 4,228 by Government of National Capital Territory of Delhi, 3,757 by the income tax department and 3,487 were related to urban affairs (Urban development or DDA among others).
While the Railways has disposed of 8,285 complaints, 6,796 were dealt by banks, 3,593 by GNCTD, 2,419 by IT department and 992 were disposed of by departments engaged in urban affairs work.
Of the total complaints received by them, about 2,052 were pending investigation (683 pending for over six months) in Railways, 540 in banks (including 42 for over past six months), 635 with GNCTD (272 for over six months), 1,338 by IT department (969 for more than six months) and 2,495 with urban affairs organisations (324 for over six months), the report said.
As many as 2,649 complaints of alleged corruption were received by CVO of telecommunications department, 2,536 by petroleum ministry, 1,672 by food and consumer affairs, 1,491 by customs and excise department, 1,329 by coal department and 1,215 by steel department among others.
Of these, 1,184 were disposed of by the department of telecommunications, 2,138 by petroleum, 575 by food and consumer, 707 by customs and excise, 1,052 by coal and 1,033 by steel departments, it said.
A total of 449 complaint were pending investigations for over six months in telecommunications department, 187 in petroleum, 699 by food and consumer, 428 in customs and excise, 87 in coal and 53 in steel departments, the report said.
The chief technical examination wing of the commission has effected recovery of Rs 151.20 crore last year after conducting technical examination of works carried out by various government organisations.
The CTE had carried out 61 intensive examinations of 45 government departments during the year. In 2011, the CVC has effected a recovery of Rs 88.90 crore and Rs 58.70 crore in 2010, the report added.