A special court on Thursday acquitted all accused in the 2G spectrum allocation scam cases.
The scam relates to the granting of 2G spectrum licence allocations in 2007-08 which caused, according to a report by the Comptroller and Auditor General of India, a loss of Rs 1.76 lakh crore.
Here is a detailed timeline of how the case came to light and how it has progressed over the years: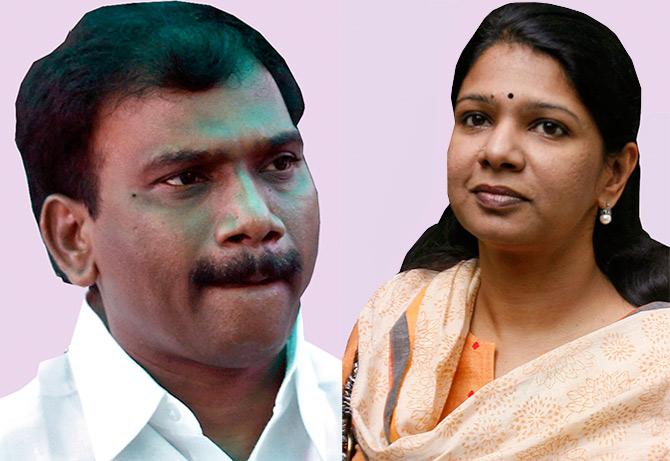 May 2007: A Raja takes over as Telecom Minister.
Aug 2007: Process of allotment of 2G spectrum along with Unified Access Services Licences initiated by the department of telecom.
Sept 25, 2007: Telecom Ministry issues press note fixing deadline for application as October 1, 2007.
Oct 1, 2007: DoT receives 575 applications by 46 firms.
Nov 2, 2007: Then Prime Minister Manmohan Singh writes to Raja to ensure fair licence allocation and proper revision of entry fee.
Nov 22, 2007: Finance ministry writes to DoT raising concerns over the procedure adopted.
Jan 10, 2008: DoT decides to issue licences on first-come first-serve basis, preponing cut-off date to September 25.
2009: Central Vigilance Commission directs CBI to investigate the allegations of illegalities in allocation of 2G spectrum.
Oct 21, 2009: CBI files FIR against unknown officers of DoT, unknown private persons/companies and others.
Sept 13, 2010: Supreme Court asks Centre, Raja to reply within 10 days to three pleas alleging a Rs 70,000 crore scam in the grant of telecom licences in 2008.
Nov 10, 2010: CAG submits report on 2G spectrum to government, claims loss of Rs 1.76 lakh crore to exchequer.
Nov 14-15, 2010: Raja resigns as telecom minister.
Feb 2, 2011: Raja arrested by CBI in 2G case. Former Telecom Secretary Siddhartha Behura and Raja's erstwhile private secretary Ravindra Kumar Chandolia also arrested.
Feb 8, 2011: Promoter of Swan Telecom Pvt Ltd, Shahid Usman Balwa, arrested by CBI.
Mar 14, 2011:Delhi high court sets up special court to deal exclusively with 2G cases.
Mar 29, 2011: SC permits CBI to file chargesheet on April 2 instead of March 31.
Apr 2, 2011: CBI files its firstcharge sheet; names Raja, Chandolia and Behura. Reliance ADAG Group Managing Director Gautam Doshi, its senior Vice President Hari Nair, Group President Surendra Pipara, Swan Telecom Promoters Shahid Usman Balwa and Vinod Goenka and Managing Director of Unitech Ltd Sanjay Chandra made accused.
Three companies -- Reliance Telecom Ltd, Swan Telecom Pvt Ltd and Unitech Wireless (Tamil Nadu) Pvt Ltd -- also chargesheeted.
Apr 25, 2011: CBI files second chargesheet naming DMK chief M Karunanidhi's daughter and MP Kanimozhi, 4 others.
Oct 23, 2011: Charges framed against all 17 accused.
Nov 11, 2011: Trial in the case begins.
Nov 23, 2011: SC grants bail to 5 accused -- Hari Nair, Gautam Doshi, Surendra Pipara, Sanjay Chandra and Vinod Goenka.
Nov 28, 2011: Delhi HC grants bail to Kanimozhi, Sharad Kumar, Karim Morani, Asif Balwa and Rajiv Agarwal.
Nov 29, 2011: Special court grants bail to Shahid Balwa.
Dec 1, 2011: Chandolia gets bail from special court.
Dec 12, 2011: CBI files third chargesheet. Names Essar Group promoters Ravi Ruia and Anshuman Ruia, its director (Strategy and Planning) Vikas Saraf, Loop Telecom promoters Kiran Khaitan and her husband I P Khaitan.
Also chargesheeted three firms -- Loop Telecom Pvt Ltd, Loop Mobile India Ltd and Essar Tele Holding.
Feb 2, 2012: SC cancels 122 licences granted during A Raja's tenure. Directs auctioning of licences in 4 months.
Feb 4, 2012: Special Court dismisses Swamy's plea to make former Finance Minister P Chidambaram a co-accused in 2G case.
Aug 24, 2012: SC dismisses plea for probe against Chidambaram in the 2G case, says no prima facie material to show that Chidambaram got pecuniary benefits.
Apr 25, 2014: ED chargesheets Raja, Kanimozhi and others in a 2G case related money laundering case.
Oct 31, 2014: Charges framed in money laundering case.
Nov 10, 2014: Final arguments from December 19.
Dec 5, 2017:Special Court fixes December 21 for pronouncement of judgment in the 2G case.
Dec 21, 2017: Special court acquits all accused including Raja and all others in all the three cases.