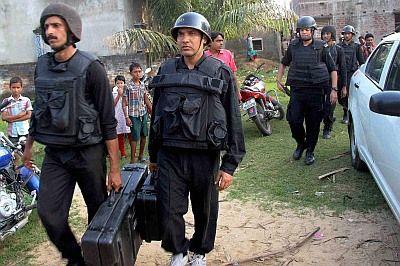 Money 'collected' as donations from traders in Kolkata nurture Bengal's terror networks, discovers Indrani Roy/Rediff.com
Where do the terror modules in Bengal get money from?
Sahanur Alam, who was arrested by the Assam police's Special Operation Unit from Larkuchi in the state's Nalbari district on Friday night, is considered a major catch by detectives investigating the Burdwan blast case and its aftermath.
Image: National Security Guard personnel at the site of the Burdwan blast last month.
By grilling Alam, who is said to be a key Jamaat-ul-Mujahideen Bangladesh operative, National Investigation Agency agents can confirm the leads they obtained about the source of funds for terror modules operating in West Bengal.
A team of Bangladeshi detectives, who visited Kolkata on November 27, handed over important information about the Burdwan blast to the NIA agents.
Notes were exchanged about the money trail at their meetings, sources told Rediff.com
Preliminary investigations reveal that money 'collected' as donations from traders in Kolkata nurture the terror networks in Bengal and Bangladesh, sources said.
A part of the money is sent to Bangladesh via hawala routes.
A bank in Bangladesh is involved in the circulation of money, sources in Bangladesh alleged to Rediff.com
Money that 'arrives' in Bangladesh is allegedly deposited in this bank before being circulated to terror operatives, the sources in Dhaka alleged.
About Rs 16 crore (Rs 160 million) was sourced in the last 18 months to fund jihadi modules in Bengal, sources say.
Jamaat-ul-Mujahideen Bangladesh operatives set aside about Rs 1.5 crores (Rs 15 million) to buy weapons and explosives in Bengal and Assam, sources in Bangladesh told Rediff.com
Jamaat-ul-Mujahideen Bangladesh leaders also pay themselves handsome salaries.
Shakil Ahmed, who was killed in the Khagragarh, Burdwan, blast, is said to have been paid a few lakh rupees as salary.
While investigating the Burdwan case, detectives also came across the names of suspicious non-government organisations based in Kuwait and Saudi Arabia. These NGOs have been blacklisted by the United States for proximity to Al Qaeda.
Earlier in this series: